Where to Buy Super Mario Halloween Costumes for Toddlers and Kids?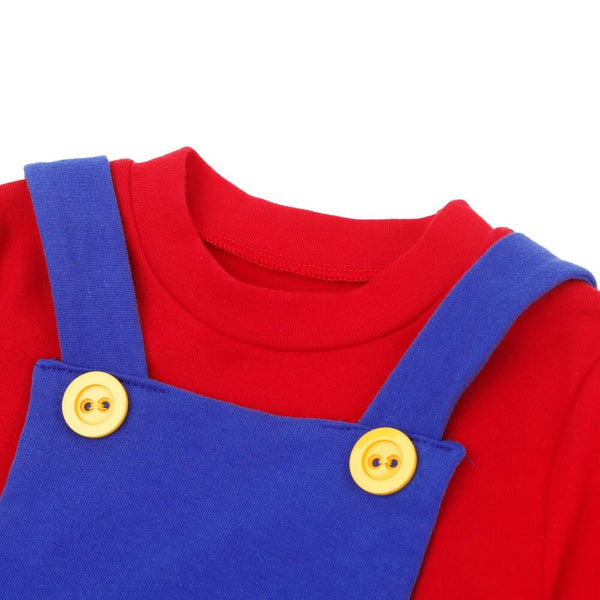 Are you a parent having trouble coming up with what Halloween costume to style your toddler and kid with? Well, you have come to the right place! For this year's Halloween, OZKIZ has prepared a lot of costumes for our little ones. Our most popular costume is the Super Mario themed Halloween costumes. Because we have them for both boys and girls, these Super Mario costumes will be the perfect simple matching Halloween costumes for your adorable toddlers and kids. Let's take a look!
SUPER MARIO HALLOWEEN COSTUMES
FOR TODDLERS AND KIDS
This is a set that comes with a red top and blue overalls just like Mario. Don't worry! It also comes with a hat! So easy that you can just become Mario in a second. 😊

This is our toddler girl Mario costume. Usually, you can find a lot of Mario Halloween costumes in overalls, but our designers at OZKIZ made it specially in an overall skirt. So cute, isn't it! This set also comes with the red t-shirt and hat.
Of course, we can't forget about our masks in a pandemic situation like today! This our Mario mask that is made from organic cotton. It is very breathable and comfortable for our toddlers and kids. This is a great Super Mario mask, but it is also a great mask to protect your kid from the cold, virus, and
Do you need matching costumes? Then, this Luigi overall set is the perfect matching Halloween costume with Mario Halloween costume! This one comes with a green top and blue overall with a green hat, just like Luigi. If you like Luigi or if you are just trying to match your kid with their siblings or bestie, then this costume is the perfect one! 😊
Get ready for this Halloween with OZKIZ and get your own Mario Halloween costume and Luigi Halloween costume.