How Korean Kids Dress in Spring?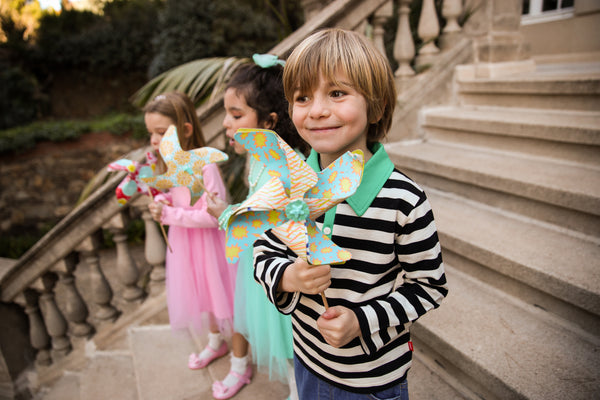 Are you obsessed with Korean kids' fashion? If so, you might wonder about how Korean kids dress in spring. Korean kids wear full sleeves shirts, cardigans, light jackets, colorful dresses, trousers, loose-fitting shirts, and skirts with leggings in spring.
Winters are harsh in Korea, and the snow season runs from late November to early March. Finally, spring is here, and the cherry blossoms of Seoul signal the warm beginning of a new season. It's time to say goodbye to heavy snow jackets and enjoy the colors of nature. Korean kids' spring wardrobe sparkles also with pretty colors.
Read on to discover how Korean kids dress in spring.

Korean Kids Spring Wardrobe
Mostly, Korean kids' spring wardrobe contains the mentioned clothing;
Korean kids' fashion follows light colors for spring, such as white, pink, sky, etc. Striped collar T-shirts look amazing for boys. Mostly, boys wear trousers and sneakers with T-shirts in spring.
Young girls like to pair full-sleeve T-shirts with tulle skirts. Loose-fitting T-shirts with flowers, hearts, or frills are common in Korean girls' fashion. Tulle skirts make a good pair with Mary Jane shoes.
Wearing shorts in spring is too early in Korea. So, parents prefer buying skirt leggings for girls that are warm and comfortable. 
Korean kid's wardrobe is incomplete without top and bottom sets. Parents mostly prefer top and bottom sets as they are comfortable and affordable. Purchasing a top and bottom set saves you from the hassle of finding matching trousers or shirts. Spring is the time for outdoor play. Top and bottom sets allow freedom of movement while playing and are perfect for both indoors and outdoors.
Cardigans and light jackets
The weather gets chilled in Korea when it rains in spring. So, cardigans and light jackets are an essential part of kids' spring wardrobes.
With the popularity of Korean drama, Korean girls' dresses are too popular worldwide. Young girls look cute in full-sleeve dresses with floral patterns, stars, and a rainbow.

Considerations of Korean Kids Spring Wardrobe
Koreans consider the below-mentioned features before selecting a spring wardrobe for their kids.
Just like in other countries, Korean kids prefer lightweight clothing in spring. Kids' spring outfits should be lightweight since the weather is not too cold, so there is no need to include heavy winter jackets. The evening gets chilly, so a lightweight jacket and cardigan are necessary.
Breathable Tops and Bottoms
Since the temperatures are transitioning between cold and warm, breathable tops and bottoms are a part of every Korean child's spring wardrobe. Kids wear fleece tops and bottoms when it's rainy and chilly in spring.
Korean kids' outfits are trendy, comfortable, and durable at the same time. Since kids' clothing suffers the most wear and tear, durability is the most important consideration while shopping. Therefore, manufacturers care for parents' needs and offer kids clothing made of durable materials like cotton, polyester, and rayon. It not only helps in saving bucks but is also comfortable to wear.
Final Thoughts
Korean kids' spring wardrobe is popular worldwide. Young girls like to wear dresses, long sleeve T-shirts, tulle skirts, skirt leggings, and top and bottom sets in spring. Boys look cute in full-sleeve T-shirts and trousers. Simplicity, decency, durability, and classiness; are the four qualities of Korean kids' fashion that make them unique worldwide.