How To Get Your Kids to Wear Mittens or Gloves?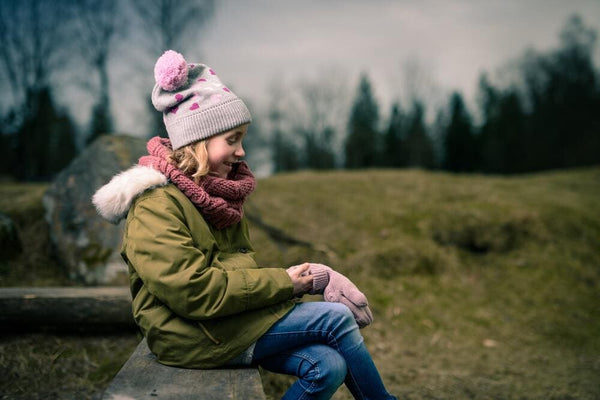 Did you recall the famous rhyme lost your mittens, you naughty kittens, then you shall have no pie? You might have sung this poem in front of your little one to encourage him to keep his mittens on. Young kids are more likely to catch frostbite through exposed areas of their bodies. If your kids don't wear mittens outdoors on a snowy day, their fingers may swell, causing extreme pain and redness. It is most challenging for parents to keep mittens on toddlers. As a result, parents panic and want to learn how to get kids to wear gloves or mittens?

If you are curious to know how to keep mittens on kids and how to keep kids from losing their gloves, this post is for you. Read it to discover all the info about kids' mittens.
Why Should Kids Wear Mittens?

Kids are not good at temperature regulation due to their tiny bodies. They lose their body heat quickly through the exposed areas of their body. You might have noticed that your little one's hands get cold instantly in the snow, and they are even not aware of it. Therefore, they need to wear mittens to keep their hands warm.
Are Gloves or Mittens Better for Toddlers?
Both mittens and gloves are suitable for keeping toddlers' hands warm. But mittens are preferable in freezing weather since they keep the fingers close together and produce heat, while gloves sometimes fail to keep the fingers warm.

However, your kids might not like mittens since wearing them reduces their motor ability. Mittens are easier to slip on. When purchasing mitts, make sure they have water-resistant outer covering and soft inner lining. Some mitts have short strings attached that prevent the pairs from getting lost.

Before your kids wear a snowsuit, make sure they wear mittens first. In this way, the mittens will stay in place due to the sleeves of the snowsuit.
Baby Mittens Pros and Cons

New babies have sharp nails that may scratch their mouth while nibbling on their fingers. Plus, newborn babies' nails are too delicate, and clipping them may cause skin cuts. Therefore, they also need to wear mittens right after birth until their nails become hard and clipped easily.

Baby mittens have the following pros: 
Mittens keep your baby's hands warm.
Wearing mittens is hygienic since newborns try to nibble on their hands.
Mittens protect your babies from scratches.
Mittens look stylish with dress sets. 
The cons of baby mittens are: 
Some baby mittens have small decorations and threads that may cause choking hazards.
Baby mittens have tight elastics in the wrist area to restrict blood circulation.
Dust and dirt stick to baby mittens that make them unclean.
A pediatrician says that kids can't explore the world and feel things around them by wearing mittens. Therefore, keeping your babies without mittens is crucial for maximum time. 
However, parents can decide if mittens are safe for their babies or not.
How To Keep Mittens on Toddlers?
It is too hard to keep mittens on toddlers. They need freedom with their hands and get frustrated during snow play. Mostly, mitten pairs get lost, and you keep finding them when needed. But following our mentioned tips, you can keep mittens on toddlers. 
Sew buttons with mittens and attach them to the sleeves of the snow jacket.
Use clips and secure one end to the mitten and the other to the jacket.
Stitch velcro strips on the outer sides of mittens and the inner sides of jackets and fasten them.
Knot a string by making holes in mittens and pass the strings through the coat's sleeves. 
At What Temperature Kids Should Wear Mittens?

Kids should wear mittens at temperatures 40°F or lower. This rule is for toddlers and young kids because they can catch a cold instantly. Also, cover the head, feet, and ears of your child. Cotton and fleece gloves can't retain heat in snowy weather. Therefore, you should prefer buying waterproof mittens for your kids to play in the snow.
Final Thoughts
Hopefully, you understand well how to get your kids to wear mittens and keep mittens on toddlers. Winters are not about to hide indoors. Kids have a whole world to explore in the snow. They learn new things, and physical activity produces heat that keeps their bodies warm. Wearing the right winter gear is crucial to avoid frostbite. Kids' hands are soft and can freeze in minutes if exposed to weather extremes. Therefore, make sure your kids wear mittens to keep their hands warm. If they are reluctant to keep mitts on, encourage them to put on mitten by singing mittens rhyme.