Explore the Best Children's Place Packed with the Cutest Homewear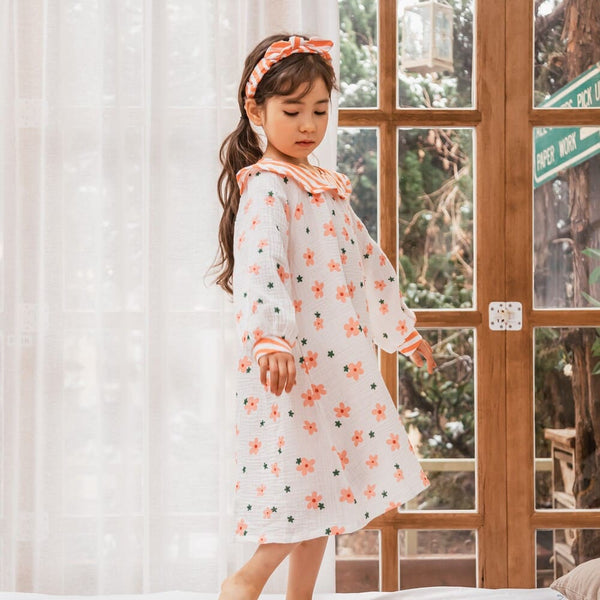 Get your little one geared up for the virtual school season. You have finally appeared at the best children's place where you will explore super soft, stylish, and delicate Homewear, perfect for your little one's skin. 

OZKIZ takes care of your kid in every possible way by making careful choices, especially for fabrics and liners. After all, clothes don't need to be always seasonal, especially when we have to spend more time within our four walls. OZKIZ loves watching outfits passing from sister to sister or brother to brother. Therefore if you choose this coveted brand, your children will unmistakably kick off the new season in style. 

All the millennial parents hunting for organic and sustainably made toddler fashion clothes will inevitably fall in love with these exceptional stunners. Take a look.
Cute Homewear with a Headband Set
Dallae Dallae Pajama brings an authentic slice of luxury to your child's bedtime. This stunning piece is crafted from genuine cotton, while its sartorial charm makes it an unparalleled collection. Your baby will feel comfortable and stylish during the daytime by wearing one of the best toddler fashion clothes and its cute headband. Since the size varies depending on your child's growth, don't hesitate to check out the size chart before purchasing. 
Millennial parents get attracted to a children's place like OZKIZ for its minimalistic appeal and general sophisticated look. Now your baby can stay warm while dreaming of going to an adventurous land in this Wish Life top and bottom set. Crafted from the pure blend of cotton and polyurethane, its variety of colors and different size choices make it a coveted piece. It comes with a fully elasticated waist. This stretchy stunner was created to give a child the most comfortability while sleeping or playing around.
This cute Snow White Pajama Dress is splashed with bright colors and creates an attractive baby princess look. This 100% cotton material ensures a sound night's sleep, absolutely ideal for nighttime wrigglers. Your girl will feel super soft throughout the night because this piece will make her feel stylish and, at the same time, gentle to her skin. If you are hunting for one of the best toddler fashion clothes to make her feel stylish and comfortable, your search ends here.
Your little princess will adore this cute floral print Homewear. Supersoft Cozy Ribbon home wear Pajama dress is both cute and fun to wear. It comes with two pockets covered with a Ribbon design that creates a fantastic look. This one is made from 100% polyester. Little fashionistas adore both yellow and pink hues. You can pick the best one depending on your cute baby's size.
This round Bunny top and bottom Homewear set are so comfy that it will make your child get snug and cozy at the same time with fun. Therefore if you are looking for a timeless, comfortable, and delightful pajama set, don't miss this adorable option. This one is made from 95% cotton and 5% polyurethane. This stunning piece will be gentle to your child's delicate skin, absolutely perfect for their sweetest dreams at night.
Apart from these five, many other classic budget-friendly pieces are available at the best children's place, OZKIZ. Start browsing now!