Solution to Apartment Noise: OZKIZ Noise Reducing Slippers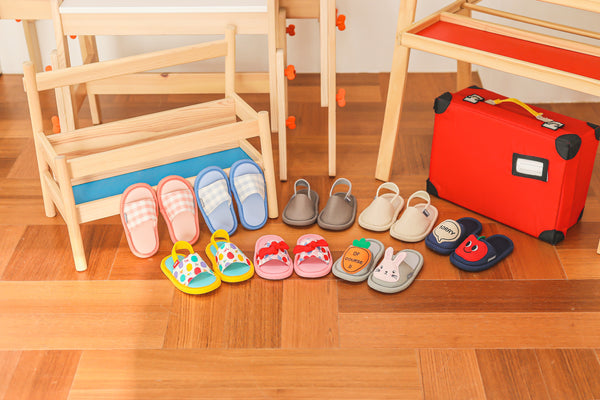 Yay, it's finally Friday! What are your plans for the weekend? Well for me, ever since the pandemic started, I've been staying at home on the weekends. Because everyone is staying indoors more lately, the problem of '층간소음(cheung-gan-so-eum)', which directly translates to 'noise between floors' have been rising. I guess it's easier to explain as apartment noise or noises from your upstairs neighbor. I think this problem gets more serious if you have kids running around the house all the time.

Are you also dealing with this problem? Well, OZKIZ Noise Reducing Slippers for Kids and Adults will help you to solve it! :)
Don't you just wish your kid could run around freely at home?

We have collaborated with GGUMBI, a Korean company that manufactures noise preventing play mats and created 'Noise Reducing Slippers'. Wondering why they are so special? Here are the reasons why!

R&D Check Point 1: Solution is in the Outsole!
The effect of reducing inter-floor noise is achieved with the outstanding shock absorption effect of the PE material, which is usually used in premium play mats.

Footsteps are quiet as 25dB!
R&D Check Point 2: Absolutely Safe
Numerous tests confirmed that materials constructing the slippers don't include any harmful substances.
R&D Check Point 3: Super Cushioned
These unique slippers have cushioning feeling and continuously fit even after frequent use. And what surely must be mentioned is that they are ultra light - just 30 gram!
R&D Check Point 4: Absolutely Non-Slip
We have calculated the optimal friction and covered the bottom of the outsole by non-slip silicone for even more safe kids' playing time. Run, jump and just play as much as you want!
Alright then! Let me share you some of the best selling noise reducing slippers in OZKIZ.
Available for BOTH Kids and Adults
Comes in 3 designs: Blue(Shark), Yellow(Apple), Pink(Heart)
For ONLY Kids
Comes in 2 designs: Blue(Dinosaur), Pink(Bunny)
For BOTH Kids and Adults
Comes in 2 colors: Yellow, Pink
For BOTH Kids and Adults
Comes in 4 colors: Grey, Navy Blue, Beige, Indi Pink
For BOTH Kids and Adults
Comes in 2 colors: Blue, Coral

We have many different designs available for you. It's also a great item to match with kids because we have some in adult sizes too. Apart from the Best Sellers, we have other versions, but I'll introduce that in another blog post!



Stay noise-free with OZKIZ Noise Reducing Slippers!