Korean Kids Daily Looks: Leggings And Skirt Leggings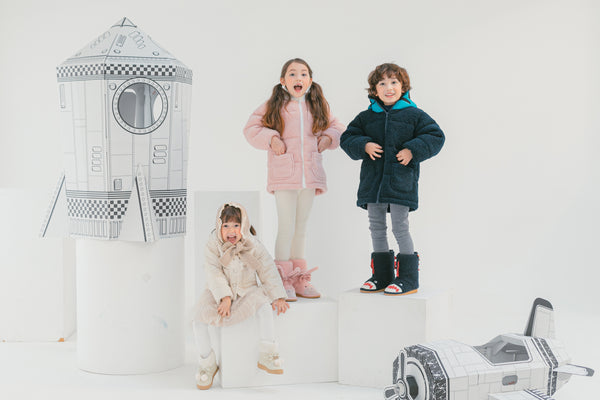 Korean kids' daily wear outfits are becoming popular worldwide since they are fashionable and comfortable at the same time. If you are obsessed with Korean kids' street style fashion, you might have noticed that Korean kids look stylish even in their daily outfits. What are the prominent features of Korean kids' daily life fashion? Of course, they are simple, elegant, unique, comfortable, and blended with modern fashion trends. However, what Korean kids wear in their daily life also depends on the season. 
In this post, we'll discuss what Korean kids wear in their daily life? In addition, how Korean kids use leggings and skirt leggings in their daily styling. Jump in to learn the details.
Pants
The most typical outfits of Korean kids in daily life are pants. Both boy's and girl's summer pants are slightly loose-fitting. Kids prefer to wear pants with sweatshirts, t-shirts, denim shirts, and cotton shirts.
A combination of denim shirts, sweatshirts, and
denim pants
gives a classy look to kids in daily life. In winter, loose pants are replaced by warm fleece pants and puffy, padded, or hooded jackets.
Leggings
During summer, both boys and girls commonly wear short, comfy leggings, short skirt leggings and, padded cropped leggings. They pair them with t-shirts and open half sleeves denim or cotton jackets. In addition, girls wear leggings with dress outfits.
With the winter's arrival,
full-length leggings
and skirt leggings become a part of kids' regular outfits. They mostly wear warm fleece sweatshirts with leggings. 
Skirt Leggings
Skirt leggings
are a unique innovation in Korean kids' daily wear in winter. These are actually leggings with attached skirts. So, girls don't need to wear a separate skirt with leggings.
 Korean people always make sure to keep their dressing as modest as possible. You can notice the same sense in their kids' daily wear dresses.
Warm fleece skirt leggings
keep the kids' legs warm and cover the butt while wearing short shirts.
Little Korean girls pair the
skirt leggings
with tight-fitting sweatshirts and tops. The sequin warm fleece knit sweatshirts also look nice with skirt leggings. Girls wear blouses, turtle neck t-shirts, and half turtle neck t-shirts with skirt leggings. During summer, girls commonly wear T-shirts with knee-length skirt leggings.
Homewear Top and Bottom
In summer, Korean girls wear cozy homeware pajama sets. These are breathable and comfortable to wear at home. On the other hand, boys prefer to wear
top and bottom pajama
sets at home. These tops and bottoms are also ideal to be used as a sleeping dress.
The home-wear top and bottom sets for girls have unique floral prints that look decent and adorable. Similarly, the pattern of different shapes on the outfits reflects Korean fashion trends. Korean girl's dresses have a unique signature look among all other outfits worldwide.
Baggy Sweatshirts
No doubt, Korean fashion is incomplete without a baggy and loose-fitting outfit. You might have seen Korean kids styling with baggy shirts in the Seoul fashion week. The same thing you can notice in their kid's daily outfits.
In summer, kids pair baggy shirts with shorts or loose-fitting pants. In winter, they wear loose-fitting hoodies and sweaters with warm fleece pants.
Dresses
Korean girls wear dresses in their daily life. Each of these outfits has a unique neckline that looks elegant. In summer, girls pair the dresses with short knee-length leggings. Cotton, polyester, and polyurethane fabric are mostly preferable for summer dresses.
However, in winter, they wear
fleece leggings
to keep their legs warm. Also, they wear turtle necks or half turtle necks under the dresses and long padded jackets over them to stay warm. Corduroy, velour, wool and,
fleece dresses
are good to keep the chill at bay.
Overalls
Korean kids also wear denim and corduroy overalls in their daily life. They look so adorable in these outfits. Overalls are a part of kids' regular wear both in summer and winter. There are season-specific overalls for summer and winter.
Final Thoughts
Korean kids look elegant, simple, but stylish in their daily outfits. Each Korean outfit has distinctive features, and kids can pair them with any outfit to achieve a decent and unique look. Leggings and skirts leggings are an innovation in Korean kid's fashion, and they are easy to pair with a variety of dresses. Similarly, overalls, dresses, pants, home-wear tops, and bottoms are part of kids' daily wear in Korea.