Popular Korean Kids Mary Jane Shoes: LED Dress Shoes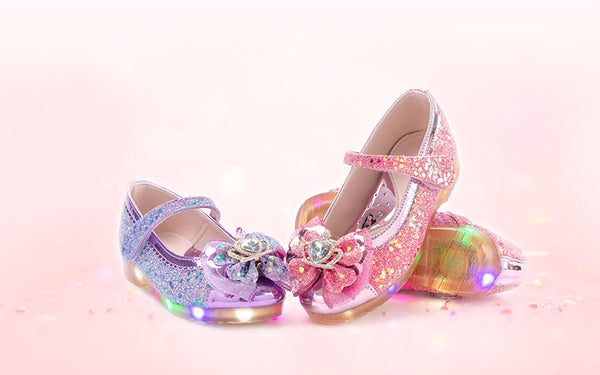 Mary Jane shoes are also famous with the names of doll shoes or bar shoes. Typically, Mary Janes are made of black leather. They have a broadly rounded toebox with a thin strap fastened with a button, a buckle, or a velcro strap.
Nevertheless, Mary Janes are never out of fashion. They have been a timeless classic in kids' fashion worldwide and especially popular in Korea for years. Nowadays, as fashion continues to take new styles, there are a lot of variations in Mary Jane's shoes. Especially, little girls are in love with LED dress shoes.
Let's learn more about popular Korean Kids Mary Jane shoes in this article. Moreover, you'll discover why kids like LED shoes?
Why Are These Shoes Called Mary Janes?
Popular Mary shoes were initially introduced in the early 20th century when both girls and boys used to wear them in schools with uniforms and at parties. Later, between the 1930s and 1940s, they became a fashion symbol for girls and women in North America and Europe.
So, Where did the name Mary Janes come from for these shoes? In 1902, Richard Felton Outcault, an American cartoonist, published a comic strip named "Buster Brown." Mary Jane was the sister of the main character "Buster Brown."
In 1904, Outcault visited St. Louis World's fair and allowed 200 companies to use the Buster Brown characters to promote their products. The "Brown Shoe Company" hired actors who performed Buster Brown in theaters. The style of shoes that the actors wore later became popular with the name "Mary Janes." In the 1960s, besides kid's styling, these shoes also became a staple in women's fashion.
In the late 1990s and 2000s, "Blocked heels" and "Chunky" heels Mary Janes evolved and became a popular fashion trend in the United Kingdom. Later, it became a preferred accessory for many traditional costumes in China and Korea.
Why Kids Love Mary Janes LED Dress Shoes?
Nevertheless, Mary Janes never go outdated in fashion. Initially, these shoes were aimed to fulfill the necessity of school-going girls. But now, they have become a symbol of girlhood fashion. Typically, young girls create their own wonderland in their imaginations, similar to the movie "Alice In Wonderland." That's why they love to wear LED dress shoes to copy their favorite characters.
Moreover, with the worldwide popularity of Korean fashion, Mary Janes have become more famous in the kid's fashion industry. Little girls prefer to wear LED dress shoes on fashion shows, birthday parties, and different events. No doubt, by wearing Mary Jane dress shoes, they resemble little fairies.
Why Select Mary Janes Shoes For Your Girl?
Among several stylish footwear, why should you select Mary Janes for your little princess? Little girls love to copy the cartoon character they like most. So, Mary Janes are the best match for your princess.
 Here are some reasons for buying Mary Janes for your girl. So, have a look:
If your little fairy has to perform in her school and wants to be an "ariel princess," Mary Janes are the perfect choice when accompanied by a fabulous princess dress.
For events such as birthday parties, dress up your child like "Alice" of the wonderland. The Alice Mary Jane will perfectly match with the "Alice dress."
Several other Mary Janes with a bow, beads crown, and ribbons look nice with a wide range of girls' dresses.
In short, Mary Janes are an ideal choice for your girl since they boost the look of every outfit. These are stylish, durable, and versatile shoes.
How To Wear Mary Jane Shoes With Different Outfits?
Your girls can wear Mary Jane shoes not only with dresses but with a variety of outfits. In the early 1900s, these shoes were paired with flared pants. But now, they look nice with fitted pants and leggings.
Your princess will also look pretty while pairing these shoes with knee-length skirts and fitted trousers that fit above the ankles.
How To Care For Mary Jane LED Shoes?
Follow these tips to care for Mary Jane Led Shoes.
These shoes are for formal wear. So, make sure to handle them with care. Never pull the bow or ribbons from the shoes.
Avoid putting on the shoes with wet feet.
Use damp cloths to clean these shoes. Avoid putting them in water.
Never try fixing LED lights by yourself.
Final Thoughts
Popular Korean Kids Mary Janes are a perfect choice for styling your kids on different occasions. They enhance the appearance of any type of outfit and give a stylish look to your little fairy. Moreover, the LED feature in most Mary Janes is best to dazzle the friends of your princess at parties.