What to Do with Old Children's Shoes?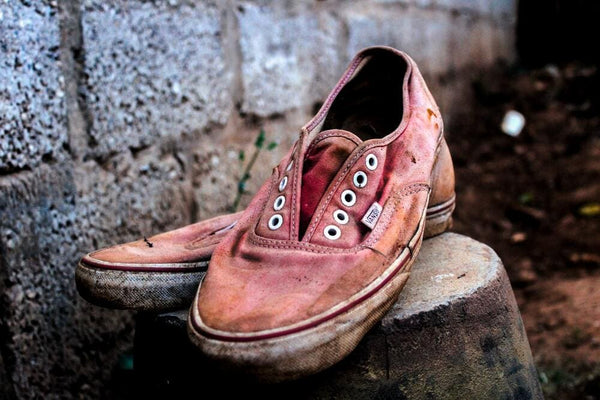 Are you worried about what to do with a pile of outgrown and old kids shoes? No doubt, kids shoes cover a lot of space, and the apartment system doesn't allow you to store extras. Of course, your mind doesn't support the thought of throwing shoes in the trash. Some boots are worth donating while others don't; you can recycle them.  So, what to do with the old children's shoes? How to recycle old kids shoes?

If you have worn out kids sneakers, sandals and boots, this post is for you. Keep reading for our suggestions on what to do with old children's shoes.
Can You Do Anything With Old Shoes?
Yes, you can do many things with your kid's old shoes. You can use them as pots for planting in your garden. Moreover, you can use them in crafts as well. You can contact a shoemaker for the repair of shoes then donate them.

Various organizations have a shoe recycling program. They pay you for the pair of old shoes that you send them.
How To Recycle Kids boots, Sneakers and Sandals?

Toddlers and young kids' shoes outgrow quickly. You purchase a lot of shoes for your kids between growth sprouts. Some shoes such as slippers are specific for indoors. At the same time, kids have separate footwear for parties and occasions.

On average, your child will have 25 or more pairs of shoes until he reaches 12 years. If you throw them in the trash, a sneaker will take 40 years to decompose in landfills. Therefore, recycling is crucial to prevent pollution on earth.

Here are the ways to reuse or recycle kids' old shoes. So, have a look.
1. Use Old Shoes in Crafts
You can use old kids shoes in fun craft projects. For example, you can make pincushions to store sewing needles. Your kids can create colorful drawings on old shoes using brushes and colors. Similarly, wall hangers can be made with the sole of bathroom sleepers to hang keys and other accessories.
2. Plant In Old Shoes

Growing plants in old shoes is a unique and innovative idea to give a classy look to your garden. All you need is some potting soil, seedlings of your favorite plants and water. Add potting soil in the shoe, carefully plant the seedlings and water. Make sure to make drainage holes in the shoe. Now place the potted footwear away from direct sunlight until the plants get enough strength. Then, transfer it to a sunny spot and care according to plant requirements.
3. Repair Old Shoes
If your kid's old shoes are badly worn out, invest in repairing them instead of throwing them away. In this way, your younger kids will wear them, and you don't need to purchase new footwear for them frequently.
4. Send To Shoe Recycling Organizations
Several shoe recycling organisations pay you for old shoes you send them. Once you send your kids old shoes, they sort them out and send them to underdeveloped countries. You can also donate these shoes to local organizations that help the needy. However, for donations, your shoes must be new or gently worn.

You can toss the used kids shoes in recycling bins.
Is It Worth Donating Old Shoes?

If your kid's old shoes are in good condition, it is worth donating old shoes. Many countries face extreme poverty where people can't afford their basic requirements. You'll add your part to helping those people by donating these shoes.
What To Do With Shoes That Can't Be Donated?
You should toss the old shoes in recycle bins that can't be donated. Various sneaker recycling programs turn sneakers into rubber running tracks, playgrounds, gym floors, turf fields and other surfaces. Moreover, you can make birdhouses, plant pots, and even iPad stands. The leather of the old shoes can be reused in making purses.
Final Thoughts

There are several ways to recycle or reuse old kids shoes. You can donate the shoes to charity and help people worldwide. If you know families who have no money to purchase new footwear for their kids, make sure to help them first. Crafts and DIY projects with kids' shoes are also good options to reuse them positively. If the footwear is not in a condition to donate, you should toss them in recycle bins instead of throwing them in the trash.