Summer Style: A Look Must-Have Fashion Faves for Kids Girls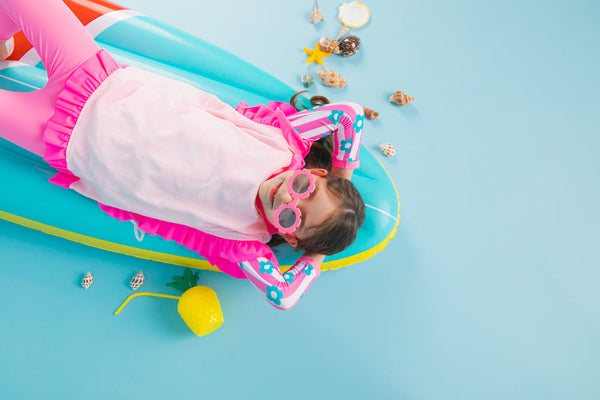 In the summertime, kids girls are often looking for new styles to wear. What's a must-have fashion favorite? Swimming gear! Whether you're going on a family vacation or just spending some time at home by the pool, kids girls need to be prepared with swimwear that is comfortable and stylish.

In this blog post, we will look at kids girls swim style fave fashion trends for kids girls clothing and share tips on how to pick out kids girl swimwear that suits your needs best!
Mix and Match Separates
One of the most popular trends in swimwear for kids girls right now is mix and match separates. This look involves picking different styles and colors of swim bottoms and tops to create your own unique style. You can choose a mismatched bikini top and bottom or go with two different prints or solid colors.
Tankinis
Tankinis are another popular trend in kids girls' swimwear. These suits are one piece but include a tank top with shorts or bathing suit bottoms instead of the typical bikini bottom. Tankinis are great for covering up when you're dealing with areas that need more privacy, like when your little girl is just learning to cover her chest area when changing out of clothes and into her swimsuit.
Bright and Bold Colors

A fun trend in kids girls' swimwear this summer is bright and bold colors. If you're looking to add a pop of color to your child's wardrobe, look for bathing suits in fun shades like pink, yellow, or green. These eye-catching colors will help your little one stand out at the pool or beach.
Ruffles and Lace

Ruffles and lace are another popular trends in girls' swimwear this summer. These details add a touch of femininity to any swimsuit and can help make your child feel more confident while wearing it. If you're looking for a girly style for your daughter, look for swimsuits with ruffles or lace details.
Floral Prints

Floral prints are always a popular choice in summer style, and that goes for kids girls swimwear too! If you're looking to embrace the floral trend, choose a bathing suit with a pretty print in shades of pink, green, red, or purple.

Summer is a time for fun in the sun, and new swim looks! Whether you're looking to dress up your child's wardrobe with some brightly colored neon separates or add ruffles and lace details to her bathing suit, kids girls swimwear styles are sure to add some flair this summer season.
Tips for Picking Out Kids Girls Swimwear

When choosing swimwear for your child, there are a few things to keep in mind. Here are some tips to help you pick out the perfect suit:
Choose swimwear that is comfortable and fits well. Your child will be more likely to enjoy wearing it if it's not too tight or too loose.
Pick a style that your child will feel confident in. If she's shy, choose a suit with more coverage or less revealing details. If she's outgoing, try something brightly colored and patterned.
Consider the climate where you'll be wearing the swimsuit. In hotter climates, lighter colors and materials are better choices, so your child doesn't get too hot.
Think about the activities your child will be doing in her swimsuit. If she'll be playing a lot of sports, choose a suit that is made for movement and has stretchy fabric.
When you keep these tips in mind, choosing kids girls swimwear becomes much easier. So grab your sunscreen and head to the beach or pool in style this summer!