How To Wash And Dry Girl's Tulle Dress/Skirts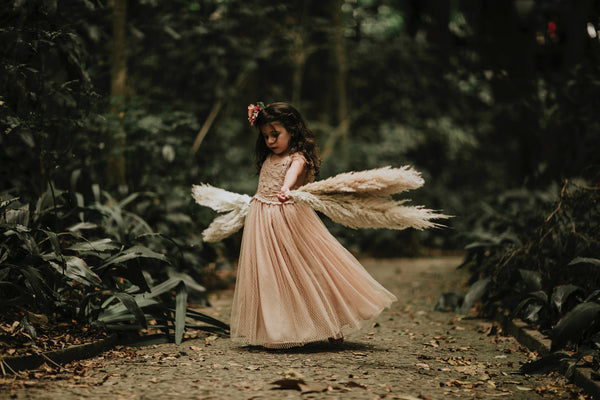 What is a Tulle Skirt?
When a girl wants to wear a more fluffed out and shapely skirt, she generally opts for a tulle skirt. Tulle is a sheer woven mesh fabric usually made of nylon or polyester, and it is used to create wedding veils, shawls, gowns, tutus, skirts, and other clothing and decor items. Tulle is frequently ruffled to give it that additional boost.
Tulle Skirts styles in 2021:
Tulle skirts are ideal for this season, especially since skirts are very much in style this year. Tulle skirts exist in so many different styles, colors, and lengths that they may be worn by adults and kids. The light, breezy fabric is appropriate for any occasion and may be styled casually. A tulle skirt is adaptable, and depending on how you dress it, it may be feminine or edgy, statement-making without being overly dramatic, modern, or classic.
How to wash and dry Tulle dress?
Step 1: Examine the tulle skirt
Check the area for any dirt or stains on Tulle Skirts. Look at the interior, hem, and train, if there is one. Make a list of all the stains and dirty spots. If the tulle has been damaged, some issues may be impossible to fix.
If significant parts of the tulle are stained, spot cleaning may not be worth it.
Step 2: Use a light stain remover to get rid of the stains.
On tulle, you should use a light remover even if you have deep, set-in stains. A powerful stain remover may remove stubborn stains, but it will almost certainly harm the tulle permanently. A gentle stain remover is available by Oxi Clean, or you can create your own.
1 tablespoon baking soda, 4 tablespoons mild dish soap, and 8 tablespoons hydrogen peroxide make your own mild stain remover. Combine all of the ingredients in a container and set aside overnight.
Step 3: Use your fingers to rub the area gently
Use a spray bottle to apply the stain remover to the fabric or pour a little amount straight onto the fabric or sponge. Scrub the stain carefully with your fingers or a soft sponge and cold water. Rub in a circular motion until the stain begins to fade. Allow it to remain for thirty minutes after that.
Use a soft sponge or toothbrush instead of a hard sponge or toothbrush to avoid damaging the tulle.
Step 4: Use detergent that has not been diluted
If the stain persists after thirty minutes, you can attempt removing it with an undiluted detergent. Using cold water and a small amount of detergent, carefully work it into the tulle with your hand. Rinse with cold water until the tulle is free of all spot cleaning and detergent. Dry it by hanging it up.
You can use detergents such as Tide, Downy, etc.
Step 5: Clean the tulle from top to bottom
When cleaning spots, it's common to leave rings or marks behind. If the stains have not been removed or if effects from the spot removal method remain, wash all of the tulle skirts by hand or in the washing machine. Take the tulle to an expert to see what may be done if it is fragile.