How to Shop for Kids Casual Wear: Clothing Material and Design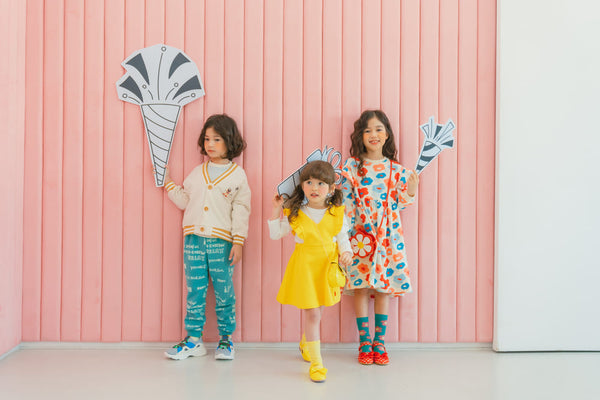 Choosing kids' casual wear can be a daunting task. There are so many options to choose from that it's hard to know where to start. Fortunately, this article will help you figure out which kids' casual wear is right for your child and how to shop for kids casual clothing at the store. It includes great tips on what kids casual clothes should have in order for them to last through wash after wash!
What Material to Choose?

Before you even start looking at what style of kids casual wear to get, it's important that you figure out the right material.


Cotton is a great, all-around option for kids casual wear because it's breathable and durable.
Polyester is another popular choice for kids clothes because it doesn't wrinkle easily and can be machine-washed.
Wool is a warm material that can be a good choice for colder climates but should be avoided if your child has sensitive skin.
Silk and other delicate materials can be easily stained or ruined in the wash, so avoid those for kids casual wear unless you want to spend a lot of time and money maintaining them.
Synthetic fabrics like fleece are durable but should not be worn when it's warm outside because they don't breathe well.
What Designs to Choose?

Once you've chosen the right material for your child, it's time to shop around online or in stores for kids casual wear that comes with a great design! Here are some things to keep in mind when shopping for clothing...
Simple Design
Keep it simple! Eye-catching designs can be a lot of fun, but your child will probably wear their clothes more if they have a minimalist design.
Bright Colors
Kids love bright colors, and wearing them makes them feel like they're in control. If your child is particularly active, brightly colored clothes might help them stand out more in a busy environment.
Fun Patterns
If your child loves to express themselves through their clothing, fun patterns are a good way to go. Just make sure the designs aren't too childish or they'll outgrow them quickly.
Classic Styles
Classic styles never go out of fashion and can be worn for many years. If you're not sure what style to choose, a classic look is always a safe bet.
Matching Sets
Many kids casual wear sets come with a coordinating shirt and pants or skirt. This can make getting dressed in the morning a lot easier, especially if your child is low on energy in the morning.
How to Shop for Kids Casual Wear?

Now that you know what kind of material and design to look for in kids casual wear, it's time to start shopping! Here are some tips on how to find the perfect clothes for your child...


Shop at the right time. Some clothing drops price dramatically after a season, so look for great deals on kids clothes around Black Friday or during winter clearance sales.
Some brands are more expensive than others depending on their target audience.
Since you are shopping for kids casual wear, be sure to look at their styles of clothing before making any purchases. If your child is really into sports or dance, then try buying him/her some gear that will allow them to perform better when practicing everyday like sneakers with soles specifically designed for various activities.
If your child is really into music, then he/she might love some new band t-shirts to add to their collection! It's fun to find out what music they like and buy them some concert t-shirts of their favorite bands.
If your child is into fashion trends, then he/she might love clothing with cool designs on them. Sometimes the simplest designs can be the coolest, like solid colors or small prints. Be sure to avoid logos and other large graphics that will quickly go out of style.
When shopping for kids' casual wear, always keep in mind their favorite activities and what might make them more comfortable when participating in them. With a little effort and time, you can find some great clothes for your child that they will love to wear!