How to Dress Your Child During the Rainy Season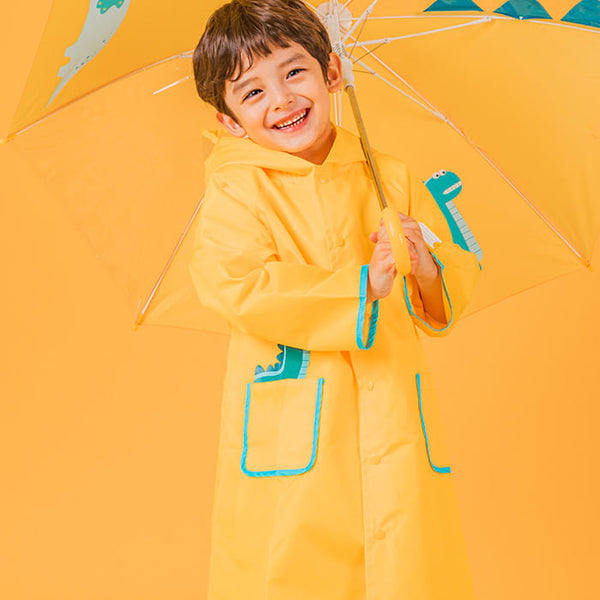 Rainy days are here again. While some people love rainy days, others don't because it means that they need to take care of their children and household extra carefully. When it is rainy season, children tend to be more vulnerable when it comes to their health because the temperature could be up and down.

Summer rainy days are tricky. Hot weather could mean storms and when that is on, the rain is just non-stop that is why dressing our children is very important to make sure that they are safe when the warm weather turns wet.

In view of the fact that the weather fluctuations are common throughout the rainy season, parents need to dress their kids appropriately.

When the environment is hot and very humid, put in loose cotton clothes on your child, as it will keep him cool and dry. And if the weather changes to cold because of heavy rains, semi- woolen clothes are a good choice to keep your child warm; try not to choose synthetic and nylon clothes.

When your child starts going to school, this can be a different case because they will be going out and the chances of getting wet are greater. Therefore, it is important to consider the clothing of your child when the rainy season is back.
Umbrella:
While some parents tend to avoid giving umbrellas to their children because of the perils of the pointy ends, it is also important to teach your child how to use the umbrella. It is a skill that they need to learn at a young age. It is not merely an accessory but the skill to balance the umbrella is something they need to learn early.

There are many types of umbrellas that are very safe for children to use. Colorful umbrellas can make the gloomy weather become bright with their choice of umbrella.  My son, for example did not like using the umbrella, and I noticed his fine motor skills are not that stable yet when hoisting the umbrella, so the more I insisted that he learns how to use and balance the umbrella because I saw the need for development. I looked for umbrellas with characters that he likes such as dinosaurs and sea animals so he would be interested to use them.


Children are too young to feel sad because of the gloomy weather, so choose bright colors for your child's wardrobe during the monsoon season.

Colors like blue, green, red, orange, yellow and others are vibrant and nice to look at and could bring life to the cloudy day with grey skies.

Raincoats can actually be a fashion statement among kids. There are different styles in the market available not that can be worn with their inner clothes to match.

Raincoats can cover your child more under the rain and make sure they do not get wet inside especially if the rain comes with some wind.
Children love water and they enjoy playing with puddles when it rains, thanks to Peppa Pig's influence in playing with muddy puddles.

My son enjoys playing with puddles on our way home from school whenever it is raining. He always stops by to step on the puddles when he sees one. Thankfully, I do not need to worry because he is wearing his boots and that makes me feel better thinking that his feet won't be wet.

Gumboots are very useful and a good choice when it is rainy. Because the material is made up of rubber, water washes off easily. There are now cute and colorful boots available that you can choose from. Avoid leather and suede shoes during the rainy season because the rain will just spoil them.
Since the weather is humid and hot; do not put on thick clothes underneath the raincoat of your little one. Their baby skin needs to breath in order to avoid rash and other allergies. Also, the fluctuation of the temperature can cause colds and cough to your child, so choosing the right clothes for your child is really important.
Insect Repellent: 
Always remember that rainy season also mean mosquito season, so make sure to protect your child by putting on insect repellent lotion to keep away those nasty mosquito bites which can be very itchy for the children.

There are different types of insect repellents that you can choose now such as lotion, stickers that is infused with citronella, hanging accessories, and more. Feel free to choose what is the most comfortable for your child.


Make gloomy days bright by choosing the bright colors for your child's clothing during this season. Most importantly, make sure that they are protected from the rain and will not get wet by choosing the proper materials used for their clothing.

Let them drink lots of water to hydrate their body from the humid temperature and feed them with nutritious foods and vitamins.

Writer: Hazel May Vinluan-Kim