4 Best Kids Rain Boots In 2022 [Buying Guide]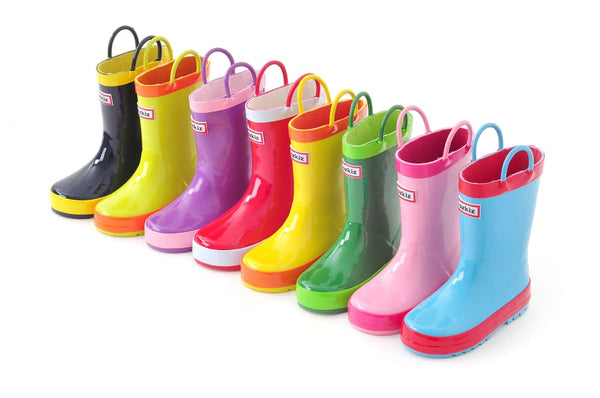 Do you want to make the rainy days a special treat for your kids? If so, your kids don't need to sing "rain go away, come again another day" anymore. Playing in the rain provides your child the ability to connect with nature. In addition, it improves kids' sensory-motor skills and creativity. If you are worried that your child can get cold when playing in the rain, we have a solution for you. Dress up your child in rain gear such as raincoats and rain boots, and let the fun begin. Now, you might be wondering about the best rain boots in 2022; if so, read this post till the end.

Finally, we have picked the best kids' rain boots from Ozkiz global. Let's have a look and decide which one is made just for your child.
Things To Consider Before Buying Kids Rain Boots

You should consider these points when purchasing rain boots for kids.
Durability
The rain boots made of padded neoprene or rubber are the best. These boots are durable and easy to put on and off.
Comfort
Rain boots should be comfortable and made of water-proof material with a non-slip sole. Make sure that the material you select should prove ease of movement.
Size
The rain boots should not be too large-sized. Instead, they should be just large enough to fit with a thick pair of socks. Too large rain boots can cause slipping and blisters on the feet.
Warmth
Consider your weather before purchasing rain boots. If the place you live is extremely cold, you should buy insulated rain boots. Contrarily, your child's feet will sweat in average weather if they wear insulated boots.
4 Best Rain Boots for Kids
Below are the best rain boots for kids. Have a look:
Cute Dinosaur Rain Boots
Is your child obsessed with a dinosaur? If so, surprise him with the "cute dinosaur boots." The outer of the boots is 100% polyester, and the inner is 100% cotton. The unique black color with black and white eyes and bulging nostrils look fantastic. The yellow bumps on the front and back and the yellow sole add more beauty to these boots. In addition, these are adorable, comfy, and easy to put on and off.
Kitty Family Rain Boots
Are you looking for rain boots for your kitty lover daughter? If so, you clicked the right place. The "kitty family rain boots" are best for your daughter since they are 100% rubber made with a 100% cotton lining. Your daughter will fall in love with the graceful pink and grey color combination and a cutely printed kitty on the front.
802 Rain Boots

Ozkiz global offers a variety of colors in kids' rain boots. The "802 rain boots" include a unique combination of yellow, black, purple, pink, sky blue, navy and red. All of these colors are perfect for both boys and girls.
Cherry Cherry Tok Tok Rain Boots
Cherry is the favorite fruit of almost all kids. Many of them need clothing and footwear with printed cherries. If your kids do the same, buy her a pair of "cherry cherry tok tok rain boats" this rainy season." The material of these boots is PVC with 100% polyester inner lining.
FAQs
Do kids wear socks with rain boots?
Yes, kids should wear socks with rain boots since they give an excellent fit. In addition, socks prevent rain boots from smelling.
Why do kids' rain boots have handles?
The handles help kids put the shoes high up in the calves by themselves.
Do rain boots hurt?
If you purchase rain boots of the wrong size, they may hurt, causing pain and blisters. Therefore, make sure to select a size that fits you with socks.
Why are rain boots heavy?
Rain boots are heavy because they are made of heavy rubber or waterproof nylon material to keep your feet wet and dry.
Final thoughts

If you search for the best rain boots for kids, you'll find the best quality at Ozkiz global. Rain boots allow your kids to explore nature and play in the rain without getting wet. Before purchasing, make sure to consider the type of boots, material, durability, and comfort level. Also, avoid purchasing insulated shoes if you live in an area with an average temperature zone. Click here to read how to clean kids' rain boots.