Why A Hoodie is Best to Keep Your Toddler Warm in Fall and Winter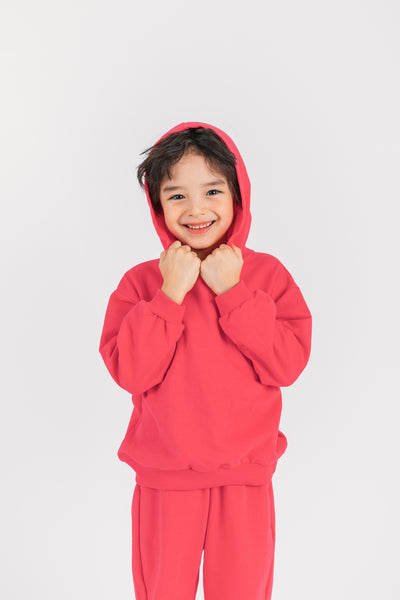 Fall has arrived and now you need to keep your toddler warm. It's a fact that kids want to be outside. With fall here and winter quickly approaching, you're going to need clothing to last the next few months. There are many clothes designed to keep children warm, but none are as great as the hoodie. The hoodie has long been the first choice for keeping us warm. Here are a few reasons why we know hoodies are the best way to keep your child nice and cozy as the weather gets colder.
They're Versatile
Your child's wardrobe continues to grow. With all those clothes, you're going to need pieces that are easy to mix and match.  The versatility of a hoodie makes it not only great for fall but a winter essential for toddlers and children. The hoodie is the most versatile item when it comes to assembling a fall outfit. The "puffy daisy" dumble hooded jacket is a great example of this. Its yellow design is great to pair with other bright colors to help create a warmer look as the weather gets colder.
There are also hoodies if you want a simpler design as well. The "drive" hooded shirt comes in basic colors and can pair with anything your child may wear this autumn. No matter your toddler's personality, a pullover hoodie is always a great addition to their fall outfit.
They're Comfy
A hoodie is simply a comfortable piece of clothing. They are perfect for laying around the house or for going outside. If you're trying to keep your toddler warm this fall and winter, then a hoodie is the best way to do that and stay cozy. The "hoody bear" puffy hooded T-shirt is how your toddler can stay nice and comfortable this fall season. This toddler's pullover hoody was designed with comfort in mind. Whether your child is outside playing or tired and ready to nap, this hoody will keep any child snug and warm.
They Look Nice
A hoody can be basic or it can be used to dress up. No matter the occasion, there is a hoody for it. This fall, your child can stay warm without having to give up their look. For a simple outfit, you can't go wrong with a pullover hoodie for your toddler. The "bodeul hoody" sweatshirt comes in many different colors so your child can find the right sweatshirt to stay warm in. With its simple color scheme, the "bodeul hoody" sweatshirt is great for layering as the year gets colder.
Hoodies don't always have to be simple. Look no further than the "rian flower" hooded dress if your little girl is looking for something cute to wear in fall. This hoodie combines warmth with elegance and is great for layering. If you're looking for something for both fall and winter, the hooded dress is an important part of any clothing ensemble.