Children's Denim: The Answer to Durable and Affordable Kids Clothes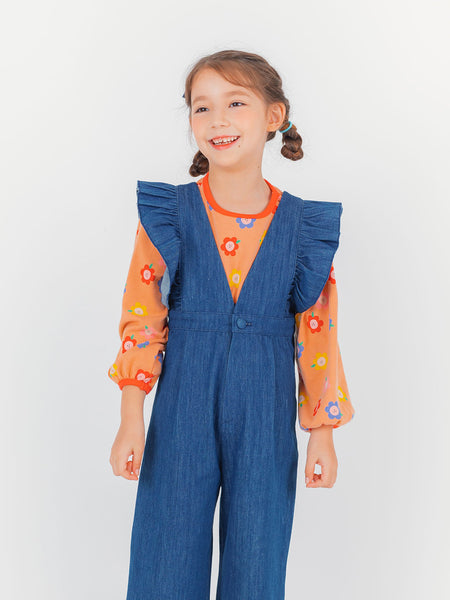 Kids need clothing that is durable and affordable. Ask any parent and there is no question about it. Children are constantly tearing clothes without a care in the world. Unfortunately, it is up to the parents to get the bill. How can we find clothes that cover the holy trifecta: durable, cheap, and trendy? Easy. The answer is denim. No one knows this more than Ozkiz. That's why we've been hard at work designing clothes to clothes to keep your child fashionable at a price that works for you. 
"Somefril" Denim Overalls
Girls can play just as hard as the boys, but they shouldn't have to dress down for it. Overalls have reappeared and now your child can get in on the trend. The "somefril" denim overalls are a great addition to any girl's cute outfit. The frills lining the outside are a stylish take on a classic piece of clothing. With Ozkiz's "somefril" denim overalls, you'll see that affordable doesn't always mean cheap. Check out these low-cost overalls that will show off the fashionista your little girl was always meant to be. 
"Awesome" Denim Jeans
Denim jeans never go out of style. OzKiz's "awesome" denim jeans are made to handle the wear and tear of any boy's playtime. Come rain or shine, these jeans for boys are made to be tough, durable, and affordable. The "awesome" denim jeans offer a simple color palette with a unique design that is sure to be one of the trendier pieces in your child's wardrobe. With a bright blue color scheme, your child's denim jeans are sure to turn heads.
Denim Bucket Hat
Who said denim is only reserved for the body? The denim bucket hat is a great article of clothing that is sure to be a welcome addition to any child's outfit. Cute and stylish, this hat will complete any child's ensemble. If your toddler needs to keep their head warm or keep the sun out of their eyes, Ozkiz's denim bucket hat is here to be the multipurpose fashion pick ready for whenever you need it. 
"Awesome Pocket" Denim Jacket
The "awesome pocket" denim jacket follows the same design as the "awesome" denim jeans. Simple. Fashionable. Long-lasting. Perfect for any budget. Wear these with the "awesome" denim jeans or not, a child is sure to stay warm in the fall months with our addition into the denim fashion trend. Best of all, it's not just a trendy denim jacket, but also an affordable one as well. The "awesome pocket" denim jacket's two-tone design may be simple but catchy as well. Don't overlook this jacket when looking for the best denim jackets for children. 
"Stretchy Cheese" Fleece Branded Jeggings
Another piece of clothing making a comeback is
jeggings
. These jeggings are perfect for a child on the move. Made with stretchy material, our
"stretchy cheese" fleece branded jeggings
move with your child to ensure these clothes don't tear no matter where any toddler goes. You won't need to stress about your child's clothes anymore. If you are looking for durable and affordable children's clothes, then look no further than the "stretchy cheese" fleece branded jeggings.