How to Care for Girls Formal Dresses?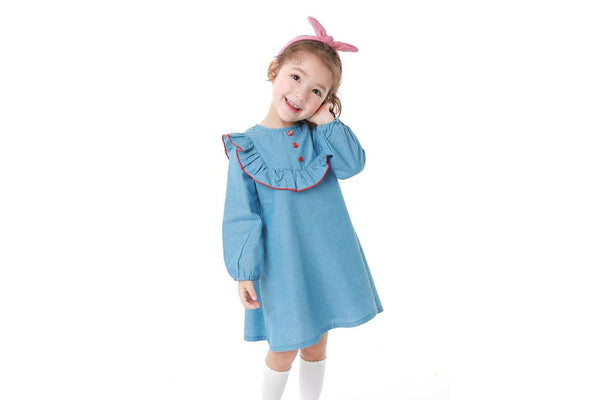 The shopping for formal dresses for your little girl is challenging indeed. You spend hours finding the right piece to make her party more pleasurable. Being a parent, I remember when I used to wait hours for my formal dress. The happiness of getting new party wear and showing it to my friends was overwhelming. Now, my daughter has the same feelings. I love how she expresses her love to me after getting her favorite dress.

After purchasing, the care for a formal dress is often overlooked. Most parents don't know how to care for girls' formal dresses. Without proper care, your little girl won't wear the outfit on another occasion due to damaged decorative ribbons, frills, and tulle fabric, and your money will go wasted.

So, if you want to know how to care for the girl's formal dresses, this post is for you. Read it and discover the right method of washing the formal dresses.
Should You Wash a Formal Dress Before Wearing?
You should not wash your or your little girl's formal dress before wearing it. It may reduce the shine and fanciness of the outfit. However, you can use a clothing steamer to revive the dress and remove wrinkles. Plus, read the manufacturer's label before ironing. You'll be more likely to burn the dress and press its beads or sequins if you use a regular iron and thick board for ironing.
How Do You Wash a Girls' Flower Dress?

Washing a girls' formal dress depends on the type of fabric. For example, cotton and wool dresses can be machine washed and dried, while a flower dress is not machine washable. If the fabric of the flower dress is organza, taffeta, satin, tulle, poly silk, or cotton, you can hand wash it with mild soap in cold water. The dresses of pure silk, acetate, rayon should be dry cleaned.

However, make sure to read the care directions mentioned on the label. Wash only if the manufacturer recommends it.

Follow these steps to wash a washable formal dress.
Pre-treat the stains as early as possible otherwise, they'll get stubborn and won't remove.
For oil stains, sprinkle baby powder and wait until the powder absorbs all oil.
Wet the stain and place a towel underneath.
Use baby soap and gently dab on the stain.
Avoid rubbing because it will widen the stain.
Take cold water in a bucket and add a mild detergent to it.
Make foam and dip the dress carefully in soapy water.
Leave it for 10 to 20 minutes.
Finally, rinse the dress at least 3 times with cold water.
Avoid tumble drying and hang the dress to air dry.
How To Dry Clean Girls' Formal Dress?

If your girl's formal dress can only be dry cleaned, make sure to take care of these points.
Select an experienced and reputable dry cleaner who uses a pure solvent.
A pure solvent is known as a "virgin" solvent, and dry cleaner usually recycle the solvents due to expenses. As a result, when the solvent is not filtered, the impurities deposit on the dress and cause an undesirable smell.
The dry cleaner should be airing the dress thoroughly to remove any odor of smoke.
Tips To Care for Your Formal Dress?

Your little girl can wear her formal dress on many occasions if you take care of it properly. Follow these tips to store the formal dress properly.
Use a standard clothing steamer to iron the dress.
Use padded hangers to hang the

dress

 when not in use. Avoid hangers that can snag the clothing, such as wire hangers.
Avoid using plastic bags to store formal dresses because they produce fumes and cause yellowing of the dress.
Use acid-free cotton preservation bags for storing your girls' formal dress.
Store the dress in a dry and dark location to prevent fading and avoid moisture.
To prevent yellowing, use buffered tissues for padding the dresses made of synthetic fiber such as rayon, acetate, and polyester.
Use an unbuffered, acid-free tissue for padding a silk dress since acid can damage the fabric.
Make sure that the temperature of the storage area is stable. Never store your girls' formal outfits in rooms with extreme changes in temperature and moisture.
Make sure that your closet is free from any pests such as mice.
Final Thoughts
Hopefully, you understand this complete guide to care for your girls' formal dresses. Purchasing an expensive outfit is not a good option if you don't know how to care for it. By following the tips mentioned in the article, you can keep your girls' dress new for years.