Top 5 Kids-Friendly Vegetables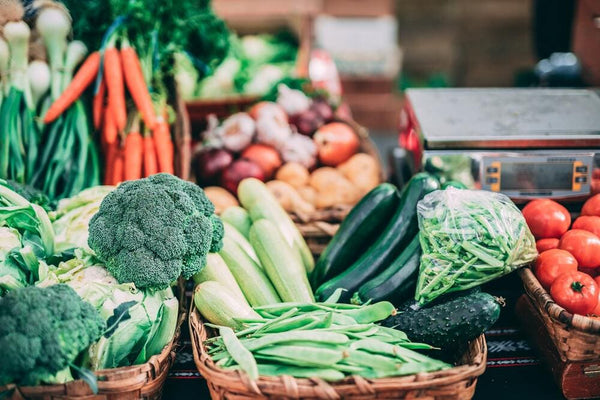 Eating a varied and healthy diet, including fruits and veggies, is crucial for your child's growth. Unfortunately, with the popularity of junk food, our kids are not willing to eat vegetables. It might be a situation in every house where parents struggle to add vegetables to their kids' diet. However, incorporating vegetables in your kids is not as difficult as you think.

If you are struggling to make your kids eat vegetables, this post is for you. Read it to discover the top 5 kid-friendly vegetables and how to encourage your child to eat vegetables.
How Many Vegetables Should a Kid Eat a Day?
A most important query arises: how many vegetables should your child eat a day? The short answer is: The daily need for toddlers between 2 to 3 years is 1 cup of raw or cooked vegetables. Kids between 4 to 8 years should eat 1.5 cups of vegetables daily. Girls of age 9 to 13 should eat 2 cups while boys should consume 2.5 cups daily to meet their body's vegetable requirement.
What Vegetables Are Best for Kids?

Almost all the leafy greens and cruciferous veggies are a great source of iron, vitamin A, and vitamin C. The best vegetables for kids include broccoli, cherry tomatoes, carrot, spinach, winter squash, sweet potato, peas, cherry tomatoes, cauliflower, mushrooms, lettuce, etc. Daily, your kids should eat dark green, orange, starchy veggies, including dry beans and peas. It is recommended to avoid sticking to one or 2 veggies; instead, offer a variety to encourage healthy eating and expose your child to various textures, flavors, and nutrition.
Top 5 Vegetables Your Kids Should Eat
Here's the list of the top 5 kids-friendly vegetables. Have a look and make sure to add them to your kids' daily diet.
Peas

Peas are nutritious, both raw or in cooked form. Kids love the soft and crunchy texture of these green balls. Furthermore, peas are rich in vitamin C, K, folate, and fiber. This nutritious veggie improves your kids' eye, brain, and bone health.
Broccoli

The lifestyle we follow nowadays lacks physical activity. Kids remain in front of screens for hours and eat unhealthy food. As a result, they suffer constipation and many digestive health issues. Besides physical activity, your kid's diet should have enough fiber. Broccoli is an excellent source of fiber. Whether eaten steamed or raw, It improves bowel movement, eyesight and strengthens the immune system.
Sweet Potato

Sweet potato is the brother of a regular potato and is more nutritious than that. It is rich in healthy vitamins, minerals, manganese, potassium, and B6. You can steam or pan-fry them and add them to the pancakes. Kids love the sweet taste and soft texture of sweet potatoes.
Butternut Squash

If your child loves soup and sweet pie, butternut squash will help to boost flavor and add variety to his favorite foods. Butternut squash is an excellent source of vitamin A, alpha, and beta carotenes. You can add it to soup or even sweet pie. Boiled and mashed butternut squash is healthy food for toddlers.
Carrots

Kids love carrots because it's bunny food. Baby carrots are highly nutritious and a rich source of vitamin A, beta-carotene, and fiber. You can mix boiled and mashed baby carrots in the rice and feed them to kids after 6 months. Carrots improve eyesight, kidney, lung, and heart growth.
How To Encourage Child to Eat Vegetables?
Parents are too worried that their kids don't like vegetables. Here are some tips that can help to encourage your kids to eat vegetables.
Introduce a variety of fruits and vegetables to your older infant and toddler's diet.
Eat veggies by yourself to set an example for your kids.
Sing rhymes that depict the importance of veggies while your kids are eating.
Try different recipes of vegetables. If your child doesn't like a specific veggie, try to make it less visible by shredding and mixing it with other vegetables in casseroles.
Introduce one food at a time rather than overwhelming a child with too many dishes. Also, offer a small portion.
Allow your kids to select a veggie for lunch during grocery shopping.
Involve your kids in vegetable planting activities.
Final Thoughts
Fruits and vegetables are the treasures of nutrition for your kids. Encourage healthy eating habits early in kids and set yourself a role model. The top 5 healthy veggies for kids include carrots, broccoli, peas, sweet potato, and butternut squash. The list is not ended here, and you can offer more variety to your kids.