2022 Fashion Trends of Toddler Girl Clothes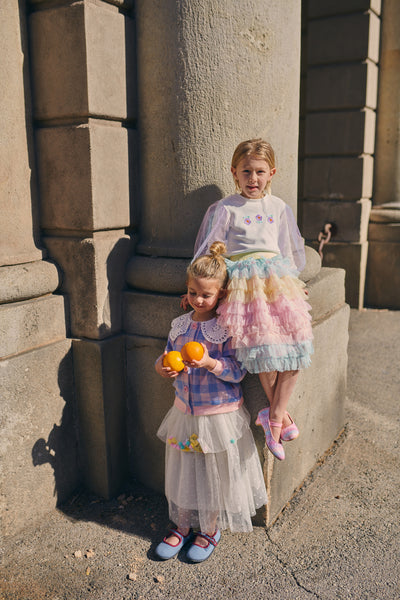 Every parent wants to see their little girl looking cute and fashionable. Life with a toddler can be a lot of fun. But, also a lot of mess. So why not stock up on trendy items to make both you and your Korean toddler feel exceptional?
But first, you have to know about the trends of the current time. And we are here to enlighten you with the information about these. So, without any further ado, let us dive in.
Miniskirts
Skirts
always make women, as well as toddlers, look more beautiful. Toddlers can wear short flower skirts or midi jeans. Pair them with animal t-shirts or colorful tops to get a polished look.
Medium Length Shorts
In the summer, small ladies will love the comfort of medium-length shorts. They might be worn practically anywhere by toddlers, for instance, in the park, the store, the playground, or at home.
Also, they look fashionable. So, why not style your toddler with medium-length shorts?
Rompers
In recent years, adults are usually into rompers, but this attire is always appropriate for youngsters and Asian toddler. Trendy rompers for toddlers are generally constructed out of jeans.
However, they can also be made from gorgeous, airy summer fabrics that can be repeated adult models.
Bright Denim
Jeans
stuff is always fashionable. Jackets, skirts, vests, jeans, and caps in a variety of styles will round up your toddler's wardrobe. It would help if you also looked at the jeans shoes. Embroideries, prints, and appliques are available on all of these goods.
A-silhouette Dress
Every little girl's collection should include a summer dress. Toddlers can wear various prints this season, including flowers, stripes, and animals. Cotton, chiffon, and other lightweight fabrics will be trendy.
Formals
Often, you and your toddler get an invite to a formal party on the horizon. The most straightforward approach to make them stand out is to dress them in the appropriate formal attire.
You can put your baby girl in a gorgeous dress with ballet or simple shoes. Also, make her hair in a pigtail or left out open, and she will look adorable in any style.
The Casual Vibe
Being casual is one of the trends nowadays. You don't have to think a lot. Just offer them some simple dressing options. And it will look trendy. You can add some accessories with it as well.
Today's children's fashion includes apparel and matching glasses, belts, shoes, caps, and hair accessories, among other things. Matching the clothing to the accessories is a skill.
So, daddies and mommies will need to acquire new fashion tactics to get their munchkin ready for the party.
Now, you have some ideas about the 2022 fashion trends for toddler girls. So, you can dress your little fairy a bit more trendy. In this way, she will look both beautiful and fashionable.
Stay tuned for more updates.