Top 5 Best Indoor Slippers for Kids In 2022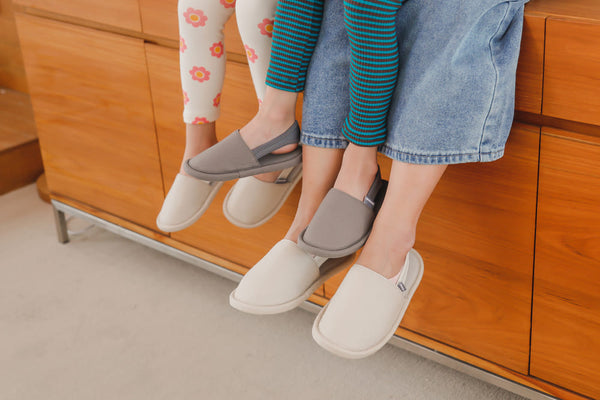 Slippers are lightweight indoor shoes that are easy to put on and off. The little feet of your young ones should be warm and cozy not only outdoors but also indoors. No doubt, indoor slippers are among the kids' crucial accessories. While purchasing indoor slippers for kids, you might have many confusions about what are the best kids' indoor slippers? Or what type of indoor slippers you should buy since there are many online kids slipper shops and all claim to deliver the best.

If you are confused about what type of indoor slippers are best for kids, this post is for you. Read it and discover the top 5 best indoor slippers for your kids in 2022. 
What Type of Indoor Slippers Are Best for Kids?

You can't expect your kids to sit still indoors. If you live in an apartment, the noise of a child running indoors feels like a bomb blast in your ears. It is quite embarrassing when neighbors complain about your apartment noise. In fact, you can't change your apartment, but you can change your kids' shoes. So, it is highly recommended to switch on to kids' noise-reducing slippers.

Noise-reducing slippers are warm, cozy, and the most comfortable shoes that your kids have ever put on. It will solve the problem of neighbors' complaints about noise, and even if you don't live in apartments, these are best for your kids.
5 Best Indoor Slippers for Kids In 2022
Here's the list of the top 5 best indoor slippers for both boys and girls. Let's have a look to decide which one looks great. 
What about if your little princess wants to surprise you in the morning with breakfast ready on the table? But the noise of her regular slippers destroys her plans every time. Don't worry, surprise your baby boy or girl morning calm indoor slippers. No doubt, it will be the best gift of 2022 for them.

The 'Morning Calm' indoor slippers are available in both boy's and girl's colors. The simple and elegant design is the prominent feature of these slippers. The back strap allows these shoes to stay in place during running.
Often toddlers don't like their toes enclosed in slippers. 'Like a cloud' indoor noise-reducing slipper is best if your kids want free toes. Again, these are available with a soft but durable back strap to keep the feet in place.

Moreover, these are available in 3 designs. The pink slippers have cute tiny blue hearts, while the yellow ones have a colorful dotted design. And the blue one is for a fish-loving baby. All three designs are suitable for both boys and girls and available for kids and adults.

Are you worried about your child going crazy for light-up indoor slippers? I think you're fed up with searching for such shoes. No worries, here are our exclusive 'Sokdak' Whispering LED noise-reducing slippers. These slippers are best if your child hates wearing slippers indoors. Once he put on these shoes, he'll even sleep wearing them.

The cute bunny with light-up carrot and a naughty apple saying sorry, have you found this style elsewhere? Of course not; it will keep your child focused and busy for hours.
Does your little one have a nature-loving personality? If so, she might need a flowering pattern in clothing and footwear. So, 'Flower Petal' indoor slippers are the best choice since they are without straps and ideal for kids who are always in a hurry to put the shoes on and off. The cute bow adds more beauty to these slippers. 

Usually, toddlers hate putting on shoes. At the same time, they play all day, running and bumping in furniture. So, instead of saying them "Stop, stop," you'll now say "run run." Since the 'Run Run' noise-reducing slipper have a velcro closure, they are perfect for kids, especially those who put off shoes quickly.
Final Thoughts
Noise-reducing slippers are the name of comfort not only for your kids' feet but also for your neighbor's ears. All the mentioned slippers are high quality and designed by our experienced designers' team. Let the indoor fun began and give the best gift of 2022 to your kids.