Top 10 Beautiful Spring Dresses for Girls In 2022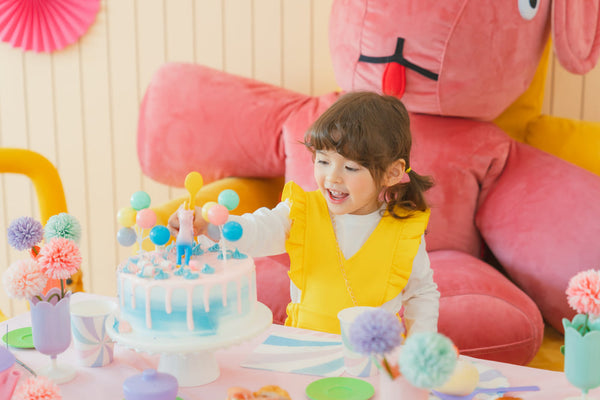 The spring season is here, and parents search for the best spring dresses for their young girls. The selection of spring outfits for your little girl might be a daunting task since you look for durability and comfort while your girl needs fancy clothing. If you face the same problem when shopping for spring outfits for girls, this post will ease your life.

We have picked the top 10 most beautiful spring outfits for girls. Have a look and decide the best one.
'Berry Sweety' Dress

Young girls love berries, especially strawberries. Your princess will absolutely fall in love with this "berry sweety dress" made of 100% cotton. The best thing about this dress is that it has full sleeves, perfect for casual and formal wear, and protects your girl in chilly mornings and evenings. Furthermore, it is available with a matching free berry bag set.
'Flory Day' Dress

Spring is incomplete without flowers. So, why not surprise your young girl with a "Flory day dress?" The yellow dress's unique pink, purple, and white floral print make an ideal match for spring outfits. In addition, full sleeves and the white baby collar with a yellow frill look like fantastic casual wear for your girl.
'Peppermint' Dress

You might have grown peppermint or enjoyed its freshness in different eating products. But have you ever seen a peppermint dress? If not, here it is. The white dress with a print of tiny green hearts gives a sense of freshness. Your princess will enjoy wearing it this spring. It comes with a green bag and detachable cape set.
'Lemona' Dress

Like peppermint dress, "lemona dress" gives a sense of freshness in the spring. The bright yellow dress looks nice and comes with a cute yellow bag set. Frills replace the sleeves, and the bottom of the dress looks like a skirt. Nevertheless, it is one of the trendy girl's spring wear.
'Lily Frill' Dress

Young girls are like flowers that bloom wearing their favorite outfits. The "Lily frill dress" is among the trendy spring wear of young girls. Your princess will look like a Lilly flower wearing it this spring.
'Let's Go Picnic' Top and Bottom

Are you planning for a picnic this spring? If so, get this dark blue top and bottom set with white floral print. The white color looks stunning and will give an appearance of a fairy to your young girl. It is made of 100% cotton.
'Vely Vely' Tulle Dress

No other dress can beat the aesthetic and style of the "Vely Vely " tulle dress. Whether your girl has to attend a party or just wants to enjoy it at home, this tulle dress is perfect for casual and formal wear. The tiny colorful hearts pattern looks fantastic, and the white frill gives it a fairy style.
'Snow White In The Forest' Dress

The story of Snow White never gets old. In addition, the Snow White in the forest dress that she wore in the movie is still trendy formal spring wear. A perfect combination of yellow, blue, and red with a shinny bow gives the feeling of a real-life Snow White. The main fabric is cotton with a 5% mixing of polyurethane.
'Margaret' Dress

A pink outfit with a white patch on the neck is the Margaret dress. Usually, young girls adore pink outfits since pink is associated with girls. If your girl loves pink, this outfit will be a must-buy this spring. Pair it with pink mary jane shoes to achieve a stunning look.
'Red Power Girl' Dress

A red sleeveless dress with black dots will look decent and stunning on your daughter. It comes with a mask set. The fabric of the outfit is 60% cotton and 40% polyester. Your daughter will resemble a cute ladybird wearing it.
Final Thoughts
Hopefully, you like the best picks for the top 10 beautiful spring girl's dresses in 2022. Now, choosing the spring outfits for your young girl will become easy. Ensure that your girl wears a light jacket in the chilly mornings and evenings.