Sleepwear for Kids In 2022: Clothing They'll Love!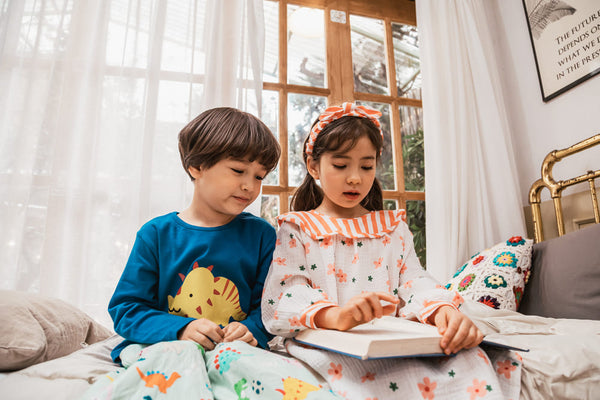 With sleepovers and sleep-away camp season in full swing, it's time to talk sleepwear for kids. It is important that they have clothes that are comfortable but also fashionable so they can sleep comfortably at night. This article has some of the best sleepwear for kids, as well as some basic tips on how to choose clothing for your children.
Kids Clothing Tip: Make sure the clothing is comfortable!
When you are picking out sleepwear for your kids, make sure that it is made from soft and comfortable fabric. This will ensure that they can get a good night's sleep without being uncomfortable.
Boys Sleepwear Option: Pajama Sets
Pajama sets are always a good option because you can find ones that feature a top and bottom combination. These are typically made from cotton or other soft fabrics, which is great for children who need to be comfortable in order to sleep well at night.
Girls Sleepwear Option: Cute Pajamas
There's no denying it - girls love cute pajamas. They will be excited to wear their favorite characters or fun patterns when they are getting ready for bedtime at home or sleepovers with friends. These sets can typically be found in 100% cotton materials, which makes them soft and comfortable to wear.
Select Sleepwear for Kids That Is Easy To Wash And Care For
Kids' sleepwear is something that will be washed many times in a given year. It's important to make sure it can hold up well against repeated washing and drying cycles without losing its shape or color. Cotton, jersey knit, fleece and flannel are all great materials for sleepwear because they can last through several washings before starting to show signs of wear.
Kids Sleepwear Can Be Stylish and Fun!
Just because sleepwear is meant for sleeping in doesn't mean it can't be stylish and fun. In fact, there are many different types of sleepwear options that feature cool designs and patterns that kids will love. So, don't be afraid to let your kids express themselves through their clothing!
Choose The Right Size Sleepwear
It's important that kids have the right size sleepwear so they can be comfortable while they are sleeping. Over-sized pajamas will not only be uncomfortable, but they could also potentially lead to problems with overheating. Conversely, if the sleepwear is too tight, it could cause discomfort and restrict movement during sleep.
Don't Forget the Socks!
Socks are an important part of any sleepwear outfit, especially during the colder months. Make sure to select a pair of soft and comfortable socks that will keep your child's feet warm all night long.
Sleeping Bags Are a Great Option For Kids Too!
If your child prefers to sleep in a sleeping bag, there are many different types of sleeping bags that would be perfect for them. Make sure to find one that is made from comfortable and breathable fabric so they can get a good night's sleep while on their camping trip or sleepover.
Check The Temperature Rating
When you are selecting a sleeping bag for your child, it's important to pay attention to the temperature rating. Choose one that is appropriate for the time of year and location you will be spending time in - too warm or too cold can both lead to an uncomfortable night!
Keep It Clean
Keeping sleepwear clean is important, but you don't want to wash it too frequently or use harsh detergents that can strip the fabric of its softness. Look for a mild laundry soap and follow the care instructions on your child's clothing so they can wear their favorite pajamas or sleeping bag more than once!
Have Fun with It!
Kids love to express themselves through their clothing, and sleepwear is no exception. Let them choose a fun pattern or character that they can proudly wear to bed each night. This will help them feel more comfortable and relaxed while they are sleeping.
The Bottom Line
When it comes to choosing sleepwear for your kids, it's important to find something that is comfortable and stylish. Make sure to pay attention to the size and temperature rating of the sleepwear and be sure to keep it clean! With so many different types of sleepwear available on the market today, there's no reason your child can't find their perfect fit.