How To Style Your Girl With Knee High Socks?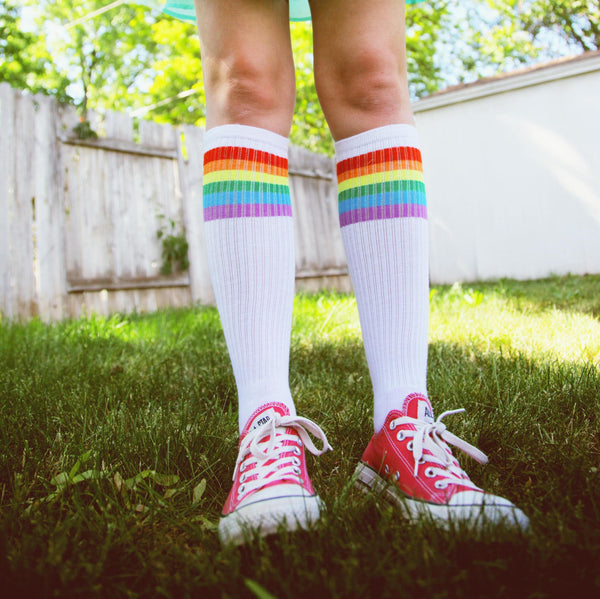 Knee-high socks have been popular since the historic era. These winter accessories are never out of fashion and perfect for a classy look with different outfits. Not only are these associated with girls' fashion, but men also like to wear them because they are always a part of fashion. Apart from being a style icon, these socks are as warm as tights, so your girls can pair them with various dresses.
 
If you are searching for ideas to dress your girl with knee-high socks, this post is for you. Read it till the end to discover the options to dress your girls with knee-high socks.
What Are Knee High Socks Called?
Knee-high socks are also called over-the-calf socks. The length of these socks is just below your kneecaps. These socks look perfect with shorts, dresses, and skirts. They keep the legs warm, improve blood circulation and protect them from getting chilled.
 
Naturally, girls are too conscious about their outfits from an early age. They want everything matching their dress, such as socks, bows, masks, and scarves. As they grow older, they love to try every fashion they have seen in TV shows or their friend parties.
Styling Ideas With Knee High Socks
While styling your girl, you'll find your princess concerned about whether the knee-high socks will suit her outfit or not. These socks are available in a variety of colors and patterns. We have fantastic ideas to dress her up with knee-high socks. So here we go:
With Short Skirts
Knee-high socks look fabulous with short skirts or shorts. To boost your stylish look, wear them with mary jane shoes,
flats
, pumps, or any type of boots. You can dress up your girl with this style for formal and casual occasions.
With Wonderland Dress
Short
wonderland dress
is a great combo with knee-high socks because your little princess can achieve a perfect "Alice" look. The matching
mary jane shoes
will give your girl a more stylish appearance.
With Round Cherry Dress
Cherries are the all-time favorites of kids. Isn't it? Girls love to purchase and wear dresses and accessories with printed cherries. Your princess will look adorable if she wears a
round cherry dress
with
flower strawberry socks
.
With Frilled Dress
Your little girl will look adorable, just like a princess in frilled dresses such as
"lovely flower"
and "
Romi Frill dress
." The knee-high socks go well with both of these types of dresses.
With Fleece Shirts
Styling in winter is considered difficult because you have limited choices to avoid chills and follow the trend. But fleece shirts with skirts and knee-high socks are the best to beat the cold weather and look stylish at the same time.
With Warm Fleece Dress
Knee-high socks are ideal for wearing with a
warm fleece dress.
Depending on the weather severity, your girl can wear them alone or on top of tights. They'll look fabulous in both ways.
Why Do People Wear Knee High Socks?
Here are the reasons why people wear knee-high socks.
Knee-high socks have been fashion icons since the historic era. These are versatile, cool, and fashionable. That's why people of all ages equally like them.
This accessory is perfect to pair not only with summer outfits but also with winter dresses.
Winter knee-high socks are designed to beat the cold.
These socks are best for everyday outfits throughout the year.
These socks are comfortable. That's why these are an essential part of athlete wardrobes.
Knee-high socks also look nice with school uniforms.
What Is the Difference Between Knee High And Thigh-High Socks?
Sometimes people get confused while purchasing knee-high and thigh-high socks. The difference between knee-high and thigh-high socks is that the former's height is just below your knee cap while the latter covers your kneecap and reaches the mid of your thighs. 
Both knee-high and thigh-high socks are perfect to wear in all seasons. These are not winter-specific. They can pair well with not only winter outfits but also summer dresses. These are stretchable, classy, and elegant that can make you noticeable in a crowd.
Final Thoughts
Hopefully, this guide will make you select a pair of crazy, colorful knee-high socks matching your girl's outfit. Pairing knee-high socks with different outfits might be an interesting experience for your little girl. These are easy to add style and comfort to any outfit, and your kids look adorable after wearing them.