How To Dress Up Your Kids for Christmas? 7 Christmas Outfit Ideas for Kids!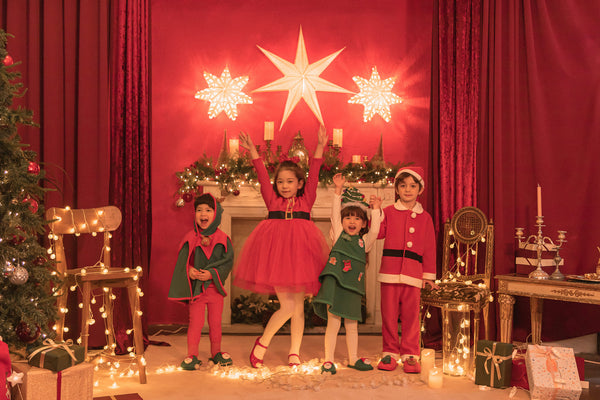 The Christmas season is at your doorstep, and your kids might be too excited about their Christmas outfits. Some kids love to wear a Christmas tree printed dress, while others want to dress up as Santa. At the same time, parents get confused about what dress to purchase and what not. And how to dress up their kids for Christmas?

In this post, you'll find the best Christmas outfit ideas for boys, toddlers, girls, and siblings. Read the article until the end if you want your kids to look smashing this Christmas.
Toddler Boy Christmas Outfits
Nevertheless, a big challenge is styling your toddler for a big occasion while keeping him warm. Therefore, make sure to select a dress that can not only beat the harsh weather but also give a stylish look to your toddler at Christmas. Mostly, Christmas outfits are in dark red, green, and navy.

Here are some of the boy toddler's Christmas ideas. Let's have a look:
1. Santa Outfit
Your toddler will look sparkling in red Santa's fleece sweatshirt with a hat set. You can pair it with red fleece pants. Your little one will look too cute and absolutely fall in love with this red outfit. A pair of red-nosed Rudolph noise-reducing slippers for indoor celebrations will do magic in achieving a Santa's look.

You can also purchase a "Santa fairy dress" to attain siblings matching dress look.
2. Deer Rudolph Hooded Shirts
If you are looking for a red but not a specific Christmas outfit, the red Rudolph hooded shirts are ideal. You can pair them with red fleece pants. The plus point is, your toddler can also wear it on occasions other than Christmas. These choco and caramel fur slip-on shoes will give a stylish look with this dress.
3. Merry Christmas Hooded Cape
If you want to give your boy a simple but elegant Christmas look, pair a simple green or red fleece sweatshirt with a merry Christmas hooded cape. The green indoor noise-reducing slippers with a white snowman will look perfectly fabulous with this outfit.
Girls Christmas Outfits Ideas
Girls mostly prefer red and green dresses with matching Christmas accessories. Here are some of the girl's Christmas outfit ideas.
1. Dot Dambi Warm Fleece Dress
The "Dot dambi warm fleece dress" has a cute printed deer on a bright red shirt and a matching red-dotted blue skirt. Nevertheless, this dress is perfect for a girl's Christmas look. You can pair it with leggings and "red Isabelle long shoes."
2. Disco Bong Bong Warm Fleece Dress
The disco bong bong dress has a unique red lining pattern perfect for achieving a Christmas look. Your girl can wear it with leggings or warm fleece pants. By pairing this outfit with red mary jane shoes, your princess will look stunning this Christmas.
3. Green Tree Dress
If you are searching for a Christmas outfit other than red, this "green tree dress" will be a unique choice for your girl. You can pair it with warm fleece pants or simply leggings. Instead of green shoes, wearing this dress with red shoes will give an outclass look.
4. Merry Cape Dress
Looking for a velour dress for your princess this Christmas? If yes, the Merry Cape Velour dress will be best for your girl to attain a stylish look. It will not only beat the cold but is a perfect choice if your girl likes comfortable outfits.  You can also pair this dress with dew animal fur slip-on shoes.
Final Thoughts
Hopefully, our Christmas dress ideas will help you in styling your kids. Before making a Christmas outfit purchase, make sure that the dress is warm and comfortable. Don't forget to purchase girls' accessories matching their outfits. Also, consider your kid's choice about what type of outfit they need. With all this, we wish you Merry Christmas.