How To Do A Nice Ponytail For Your Daughter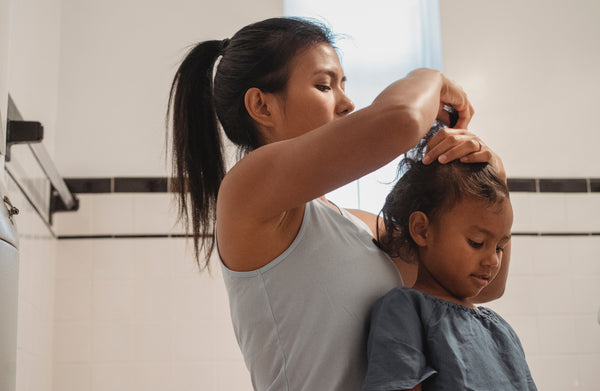 How to make ponytail:
The
ponytail
is frequently described as a lovely hairstyle that is best to do when you don't have enough time to experiment with other hairstyles.  All you have to do is appropriately draw your hair back and secure it with an elastic band. Then, you're all set to take the plunge! Ponytails have developed over time, going from being high on the head to being low over the neck, from being incredibly tight to super loose, and even on the sides.
How to do ponytails for beginners step by step:
Step 1:
Comb your hair so they can be free from knots. Keep the hair tie in your dominant hand, ready to use.
Step 2:
Your hair should be gathered in your dominant hand so it will be easier for you to tie it later. With your index finger, make an L-shape. With your thumb at the bottom, wrap it around your hair at the back of your head. Gather your remaining hair with your other hand and place it in your dominant hand. Maintain your hold at the base of your skull. Keep your fingers under the ponytail and your thumb on top if you're doing it for someone else.
Step 3:
Raise your hair to the desired position on your head. If you want a high ponytail then keep your hair above the ears and hold tight. If you want a low ponytail, then keep your hair near where your hairline begins. Lift your hand until it is level with your ears if you want a mid-height ponytail. Catch any loose hair with your free hand and gather it back into your dominant hand.
Step 4:
Smooth your stray hair back either with a hairbrush or with your fingertips and hold in your dominant hand while focusing on the top, bottom, and sides. Brush your hair back towards your hand from the hairline. When the hair is in place, pass the ponytail to the other hand.
Step 5:
Now wrap the hair with a hair tie with your dominant hand. Pull the hair tie off your wrist and into the ponytail with your free hand. Pull the ponytail through the hair tie and secure it. Twist the hair tie around your ponytail and pull your hair through it once more. You may need to twist the hair tie a third time and draw the ponytail through it again if you have thin hair.
How to do a ponytail on yourself:
The hair that falls directly over your forehead and face is the most irritating thing while you're working or in the middle of something serious. Hair does not fall all over your face when you wear it in a ponytail. The ponytail is the most professional hairstyle that keeps your hair out of your face. A sleek ponytail is a versatile hairstyle that can be worn with any outfit and for any occasion. The most fabulous hairdo for your daily routine or professional appearance is a ponytail. This haircut is timeless and will never go out of style. The ponytail hairdo can offer you a relaxed and attractive appearance.
How to make a ponytail with shorthairs:
Often people think that with short hair we can't make a ponytail look good. Do not worry! Here are the simple two steps that will help you make a ponytail with shorthairs.
Step1:
Split your hairs in half and put a bottom half into a first ponytail, this is going to help keep you from having a saggy bottom on your ponytail. It gives your hair a little bit of freedom to be voluminous and full at the top.
Step2:
Then drop down the top layer and gently brush it to the back, maintaining as much volume as you can and secure it with the elastic band around the first ponytail. Doing this it will give more volume and also give you a wider ponytail base.
Tip:
For keeping your hair in a ponytail for a long time make use of hairspray to keep them in place. Spray the hairspray through maintaining some distance so it won't cause any damage and don't spray too much so that your hair loses its natural bounce.