Different Types of Kids Winter Boots for This Upcoming Winter Season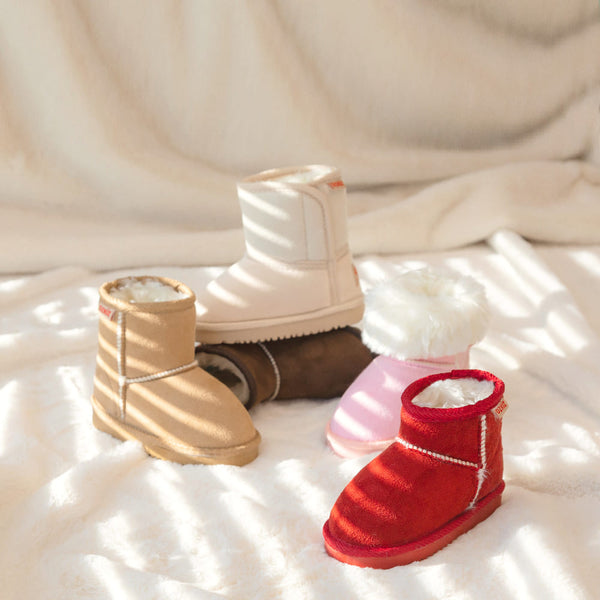 For children who live in the northern regions of the earth's hemisphere, winter is one of the most fun and exciting seasons of the entire year. This season is filled with snow days, allowing children and their parents to play and frolic in the cold and snowy environment for hours on end. One of the most essential clothing items for kids to adorn throughout the winter months are boots. Boots can keep your children's feet incredibly warm and dry, inhibiting the weather from potentially putting a damper on their everyday lives and preventing them from coming down with a cold.

Boots are, sometimes, the difference between an exciting and exciting day out in the snow or an outdoor failure. As a parent, it is imperative to trust in the winter gear keeping your child warm and safe, making winter boots an entirely worthwhile investment. Here at Ozkiz, we have gathered the best children's snow boots that can be worn when the kids are busy building snow forts, participating in snowball fights, and partaking in the all-day winter outdoor activities that they look forward to.
Winter Boots That Will Surely Keep Your Child's Feet Warm and Dry All Winter Long:

Coming from the designers at Ozkiz, the 'OZ Velcro' Fur Boots are the perfect winter footwear pieces for your child to adorn this winter season. Made from highly durable materials, such as synthetic leather, polyester, and synthetic rubber, these boots feature a Velcro opening, making it incredibly easy for small children to have the ability to put these boots on entirely by themselves. If you are looking for incredibly warm and comfortable boots that provide your child with the ability to put these boots on without your help, then the 'OZ Velcro' fur boots are the ones for you!

If you have a little girl at home that loves anything that has to do with bunny rabbits, then these are the boots for you! The 'Tong Tong Bunny' Puffy Boots from the designers at Ozkiz features an intricate design that features a pink bunny rabbit on the front side of the boots. These winter boots, made from synthetic leather, polyester, and acryl, can keep your little girl's feet safe and warm, no matter what outdoor activity she is participating in.

If you live in a region that becomes entirely frigid and icy during the winter months, then these are the boots that you need to purchase for your child. Featuring characters and icons from 'Bread Barbershop,' a hit children's television series that is available to stream through Netflix, these incredibly warm and well-made boots from Ozkiz are ideal for the frigid winter months that your child may encounter. Made from synthetic leather and rubber, these boots will securely fit right around your child's ankle, preventing any snow or sleet from slipping through.