Best 5 Winter Boots for Kids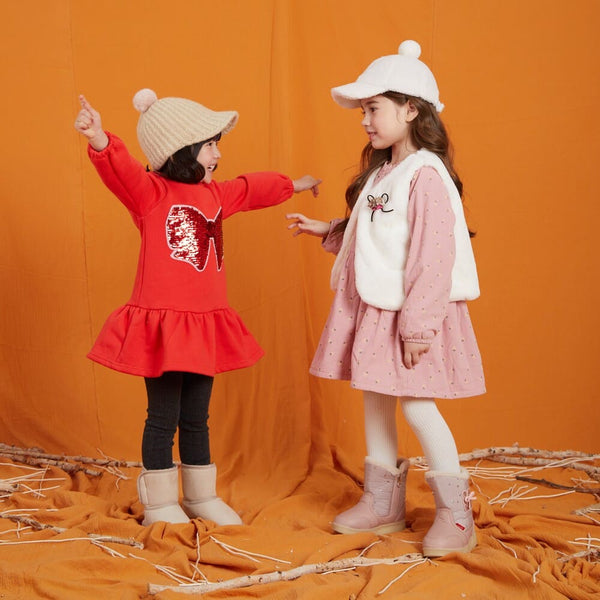 With the cold weather, it is important to keep our kids' feet warm. So, it is crucial to pick and buy boots that are filled with fur, which gives off warmth. Also, for the snowy weather, it would be even better to buy waterproof and non-slip shoes. Our shoe designers here at OZKIZ has designed many different boots that will not only suit your fashion taste as a parent, but also your child's fashion taste. Let's begin!
Warm all the way until the end of your feet! These thick padded fur boots are both beautiful and warm even in the cold winter! The cute strawberry printings will make your kid happy all the time. It is coated with waterproof material so even on snowy or rainy days, your kid can wear these boots with confidence. It also has a durable, non-slip outsole so it will protect your kid from slipping.
These boots are the boys' version of the first one. This has the same function and details, except that it has space dinosaurs printed on it. Oh and yes, it is in the color navy! Your boys will love this dinosaur and these boots will surely keep your kids' feet warm too!
Of course we can't forget that our children love LED lightings. That's why our shoe designer has added LED lighting on the bottom of these boots. It has a cute, lovely unicorn design that will catch the eyes of other from a distance. Also, the three-dimensional horns and ears make the boots even popular among children. The sparkling glitter make the unicorn shine even more! These boots are also coated with waterproof material so your kid can wear it even on snowy or rainy days. The zipper makes the boots easy to put on and take off. The soft fur lining of the boots will keep your girls' feet cozy and warm. They also have durable, non-slip outsole! 😊
We can't forget about our boy customers! This is the boys' version from the 'Dreaming Unicorn' Boots. It is made of luxurious navy color and designed in a charismatic shark. The boots will definitely keep your child's feet warm!
Let me tell you, these padded boots are one of the best-selling boots for winter at OZKIZ. Our customers just love these! They have shining star foil printing and the lining is full of fur. The zipper on the side of the boots makes it easier for kids to put on and take of the shoes. The LED light twinkles every time your kid takes a step. The durable and excellent non-slip outsole is great for safety too. Do not worry, the LED chips inside the shoes are 100% waterproof! 😊
Which of these boots do you like the best?