5 Best Smart Toys for Brain Development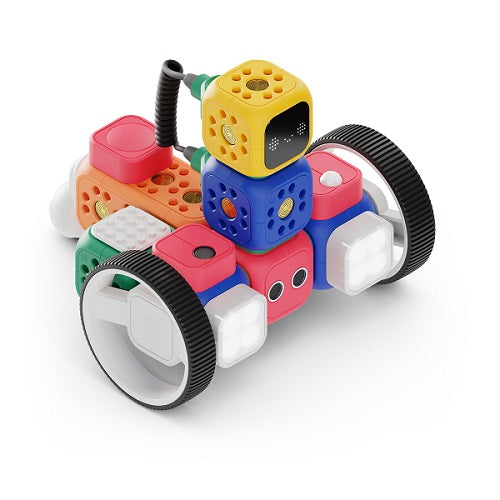 The invention of smart toys has been phenomenal to many parents. These toys have particularly been appealing because of its promises such as help in developing different skills like fine motor skills, language skills, socio-emotional skills, logical skills, hand and eye coordination and most importantly cognitive skills.  Who does not want their child to be smart and creative anyway? That is why even though the prices of these toys have skyrocketed, many parents still buy them for their little ones.

However, there are so many toys in the market that claims to be smart toys, which could be overwhelming and confusing. Certainly, not everyone has a lot of money to buy every kind of smart toy that is being introduced in the market.  It is important that moms and dads become wise in choosing what toys they want for their child. This applies to aunties and uncles too who also love showering their niece and nephew with toys during special occasions such as birthdays, Christmas, Children's Day, or even without special occasion.



What are the things that need to be considered when buying toys? First is age-appropriateness. No matter how attractive and flashy one gadget looks like, but if it is not apt for your child's age, you should not buy it. Next is quality and durability.  Despite the fact that branded toys is expensive, they also can assure of their durability and you can really get what you pay for. That toy can be passed on from your first child to the next and you can even resell it if your child already outgrows it.  Another thing to consider is the function and advantages it can give to your child.

The development and advancement in technology has created many innovative toys that children surely love and enjoy. Some of them are equipped with cameras, computer-like functions, lights and sounds that are indeed very attractive to the young ones. However, there have also been concerns that are emerging recently about some smart toys that are used to spy on your children's activity. This is alarming and therefore, it is best to carefully choose the one that you think will be beneficial to them instead of harming them.

Some of the smart toys that are beneficial for your child's brain development and skills are the following:

Magna Tiles - these transparent tiles in different shapes offer a lot of possibilities during open-ended play.  Magna tiles stimulate creativity as it allows the users to create and build different structures. This teaches shapes, colors, science, and physical skills. These tiles are very sturdy and can be used for a long period of time.



Crayola Color Chemistry Lab Test - This toy is incredibly good for science experiments that will teach your child about primary and secondary colors. There is also a kit that can be used in playing exploding volcanoes which is always a hit for children.



Grimm's Wooden Toys - This company creates an array of colorful wooden blocks and figures that can offer endless possibilities during open-ended play.  One of their most popular wooden creations is the rainbow. That rainbow can be made into different shapes and structures that children will surely love. Children who use this during role-play games can develop their vocabulary skills, and their physical skills.



Lego - Lego has stood the test of time and has proven their versatility when it comes to offering countless ways to play with them. Primarily, children use this to building different structures according to their imagination. Second, this can used for math concepts such as long, short, tall, teaching about patterns, colors and more.  There are now many dupes of Lego that offer the same quality but if you have the budget to purchase these blocks, it is better to buy the one made by Lego because it is durable.



Wii - Not everybody would agree about letting their child play with computer games, but with proper supervision and guidance, Wii has so much to offer. There are various games or programs that help children develop their physical skills such as dancing and movement games. However, there should be limitation in using this gadget. It should not be available anytime for your little ones to manipulate.



The list goes on and on, but as mentioned above, you don't need to buy everything for your son or daughter. Choose the right toy that will benefit and help in the development of different skills among the users. Always look for something that can be used not only with the first born but also with the next offspring or even cousins.
Writer: Hazel May Vinluan-Kim