Top 5 Best and Easy Sports for Kids Under 10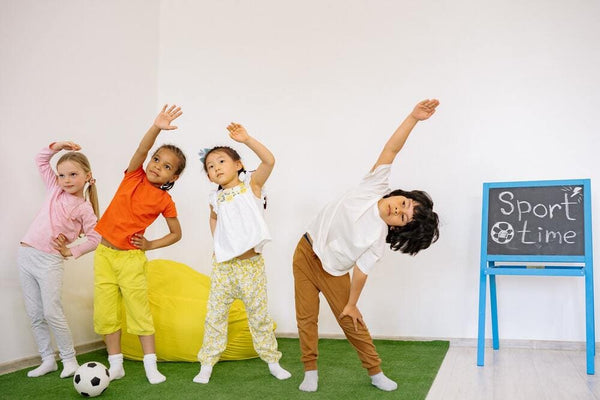 In the past few years, physical activity has considerably decreased in kids. As a result, children fall prey to serious illnesses even at a very young age. One of the most common health problems is obesity in children. Therefore, involving kids in daily exercise activities is crucial. If you want your kids to be physically active, let them participate in sports through extracurricular activities and after-school programs.

This post will discuss the top easy sports for kids under 10 years. So, if you want to know the benefits of sports and how to choose the right sports for kids, read the article till the end. 
What Age Is Best to Start Sports?
The age at which your child understands the game rules is the best age to start sports. You might have seen toddlers race on the internet. It shows that sports are not bound to age. But it is crucial that your child understands and gets the full benefit of participation in a game. Mostly, kids can understand the game rule at 6 to 7 years.
What Sports Can My Son Play At 3 Years?
3 years old kids can hardly understand the game rules. But there are some simple sports in which your kids can sign in. These sports are boxing, swimming, karate, gymnastics, soccer, rugby, etc. You can contact your local sports management to discover if they offer these sports for toddlers or not.
What Are the Benefits of Sports?

There are long-listed benefits of sports for your kids. Let's have a look at a few of them.
Kids learn teamwork and leadership.
Physical activity improves sleeping and eating patterns.
The risk of obesity reduces in physically active kids.
Kids become strong to cope up with life challenges.
Kids learn patience, team management, and courage to face defeat.
Sports increase confidence, 

self-esteem

, and competence in kids.
Children learn time management, goal setting, and ethics.
Sports improve the academic performance of your kids by boosting memory, concentration.
What Is the Most Popular Children's Sport?
The most popular children's sports worldwide include:
Basketball
Soccer
Football
Futsal
Flag football
Climbing
Softball
Volleyball
Ultimate frisbee
Top 5 Easy Sports for Kids Under 10
With the increased use of technology and screen games, kids are less likely to participate in competitions. That's why screens have limited the physical activity of kids. You should motivate your kids to participate in an organized sports program early.

Every sport requires some skills and determination. For example, some games are hard for beginners, such as boxing and tennis. It is recommended to start with comfortable sports that do not require advanced athleticism.

Here are the top 5 easy sports in which kids under 10 can participate. Have a look to learn more.
Running

Running is a straightforward sport with no hard and fast rules. Even kids love to play this game in backyards. It is not only fun but also an easy sport to learn. In fact, running is the foundation for your kids to learn other sports.
Football

Kids learn goal setting and achievement in football sports. Moreover, it is an easy and energetic game perfect for kids who have a high urge to play. Football teaches self-confidence, teamwork, and social skills to children. No doubt, it's an exciting and challenging game.
Dance

Is there any kid who doesn't like dancing? I think, no one. In fact, it is one of the easiest sports your child can participate in. Dance sports include learning the repetitive dance steps. It improves memory, bodybuilding and teaches discipline to kids. Dance sport is an activity that requires training and improves your child's physical health. Competitive dance allows your kids to compete in a safe environment.
Baseball

Baseball is an excellent sport that teaches teamwork to your child. Kids learn to face failures and how to support a team. Furthermore, baseball improves the self-esteem and self-confidence of your child. In fact, this sport is a full-body exercise that requires strength and stamina.
Basketball

Basketball is an easy sport, and you can easily arrange it in your backyard. It is a perfect choice if your kids have a lot of energy. While playing basketball, kids need to dodge, pivot, pass, run, and stop. Plus, basketball sports improve hand-eye coordination in kids.
Final Thoughts
There is a long list of sports ideals for kids to play individually or as a team. However, before signing in with your kids in any sports, it is better to check his preference and interest. The top 5 best and easy sports are mentioned for kids under 10. You can select one depending on your child's interest and age.