5 Easy Snacks to Make With Your Child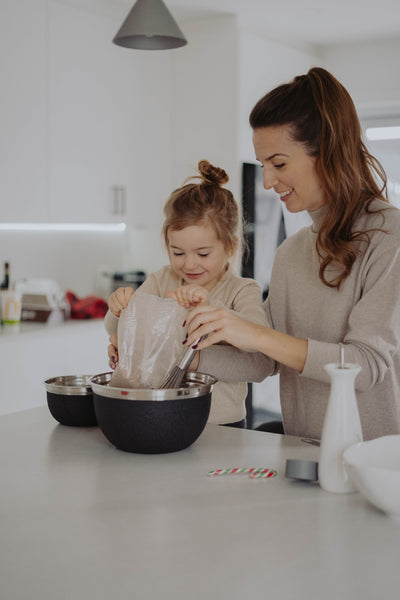 If you have little ones like me, you know the daily struggle of snack time. Whether your babe is picky or tires easily of the same foods, coming up with nutritious, easy snacks to make that suit their developing pallets but are also fun can be quite a challenge.

Luckily, most tots are easily entertained. So mixing up snack time with some silly snacks that they can even help you put together just may be the trick you've been looking for.

These easy healthy snacks are fun, yummy, quick, and best of all, invite your little sweets to get involved. The only problem you'll have is getting them to stop eating.

These mini pizzas are naturally gluten-free as a zucchini round serves as the crust, so if you're accommodating food allergies or sensitivities, these are a great option. They're also totally adorable!

How To Make It
Cut one large zucchini into thin slices and arrange on a baking sheet.

Top the zucchini slices with a pinch of salt and pepper, pizza sauce, cheese, and any other desired toppings (although you don't have much room for too many).

Bake for eight minutes at 400°F.
Ants on a log is a classic. But, if you have a hard time getting your kiddos to munch on veggies like celery, this cutesy snack might just be the winning ticket. There are also lots of fun variations you can do!

How To Make It
Chop celery into finger-length pieces.

Fill the celery with peanut butter.

Top the peanut butter with raisins.
* This recipe is for traditional ants on a log. See the link for some great ideas on how to mix it up!*
Perfect for a summer day- or any day- froyo fruit bites are a sweet treat that pack a nutritious punch. Of course, you do have to plan a bit for these due to the frozen component, but it is well worth seeing your babies' eyes light up when you whip them out of the freezer.

How To Make It
Place cupcake liners in a muffin tin and fill them with yogurt.

Top the yogurt with your fruit of choice- blueberries, strawberries, raspberries, whatever you want.

Freeze for at least two hours.
Sushi might be a hard sell for little ones (and even some big ones), but who doesn't love a PB & J? This pinwill style PB & J is a super fun way to mix up a traditional snack.

How To Make It
Remove the crust from sliced bread and roll flat with a rolling pin.

Spread peanut butter and jelly over the bread.

Tightly roll up the bread and cut into bite-size pieces.
Tikes often pass over broccoli, but in my experience, if you smother it in cheese, it will be devoured. This broccoli cheesy bread is really more like a pizza, and it's a delicious way to sneak veggies into your kids' day. It makes a great easy appetizer for grown-ups too!

How To Make It
Steam broccoli until tender, then mash, mince, or put through a food processor for 30 seconds.

Mix broccoli, bread crumbs, eggs, and cheese in a large bowl.

Pour mixture onto a baking sheet and bake for 30 minutes at 375°F (flip to other side after 15 minutes).
Conclusion
We hope these easy snack recipes help both you and your kiddos enjoy a special time of day.

Writer: Jordan Peden